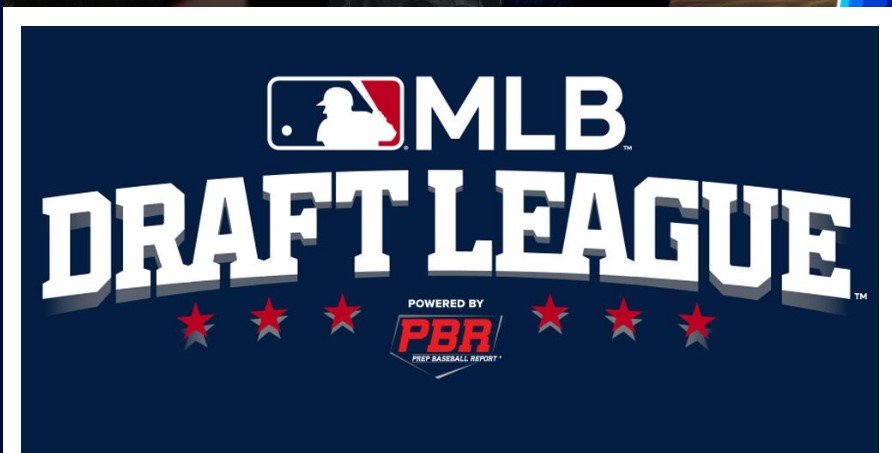 https://d1baseball.com/prospects/prep-baseball-reports-mlb-draft-league-boasts-strong-draft-results/
The 2022 MLB Draft League season will be split into two halves, with the first half set to begin on Thursday, June 2, and concluding on Saturday, July 16. The first half will feature amateur, draft-eligible prospects from around the nation and will follow a similar format to the 2021 season.
For some of us I expect the MLB Draft League did not make it onto our MiLB radars so I thought, at least for myself, I would explore the origins of the league just a bit.
Back in December of 2020 MLB axed 42 minor league teams reducing the total number of affiliates to 120, one team each at the Triple A, Double A, High A and Low A levels for all 30 MLB clubs.  I remember that well and mourned the loss of the Ogden Raptors as a Dodgers rookie level affiliate. I still miss the Raptors who did field a team in 2021 in the now independent Pioneer League.
Many of the clubs who have lost their MLB affiliation are now  playing in independent leagues while six teams from former MLB affiliations  have become a MLB sponsored draft league.
The MLB Draft League is a collegiate summer baseball league that began play in 2021. It was created by Major League Baseball  and Prep Baseball Report to serve as a showcase for top draft-eligible prospects leading up to each summer's MLB draft.
The league's initial six teams were formerly members of Minor League Baseball's New York–Penn League, Eastern League, and Carolina League before MLB's reorganization of the minors for 2021. In 2021, each team in the league played a 68-game regular season, with an All-Star Break taking place around the MLB draft. The season will be expanded to 80 games per team beginning in 2022.
The six teams are:
    Frederick Keys: Frederick, Maryland
    Mahoning Valley Scrappers:  Niles, Ohio
    State College Spikes:  University Park, Pennsylvania
    Trenton Thunder: Trenton, New Jersey
    West Virginia Black Bears: Granville, West Virginia
    Williamsport Crosscutters:  Williamsport, Pennsylvania
With the draft being moved back to July, the Draft League offers a  new opportunity for the top draft prospects to showcase their skills against each other and boost their draft stock. Draft League participants will receive unprecedented visibility to MLB Club scouts through both in-person observation and state-of-the-art scouting technology, and educational programming designed to prepare them for careers as professional athletes. Furthermore, Prep Baseball Report will also use their media and technology platforms to promote the league and its players throughout the season.
Since its inception in 2005, the Prep Baseball Report has evolved into one of the country's biggest and most respected independent scouting services, with a singular focus of providing comprehensive year-round coverage in every state we are in. The mission of the Prep Baseball Report is to scout and promote amateur baseball – high school, junior college and college – and, ultimately, help athletes achieve their dreams of playing baseball at the next level. With more than 150 scouts, we have the largest baseball scouting infrastructure across all levels of amateur baseball in the country.
From its inaugural season, 39 players were selected in the 2021 July draft. Thirty-two were college players along with seven high school players. Twenty-six of the 39 were pitchers. In addition to those who were drafted, 57 were signed as undrafted free agents, 23 to MLB affiliates and 34 to independent leagues.
The Dodgers, Cubs, Rays and Blue Jays all drafted three Draft League players, while the Braves, Orioles, Red Sox, Reds, Astros, A's, Pirates, Mariners, Rangers and Padres took two each.
Overall, 21 MLB clubs tapped the Draft League for talent in the 2021 Draft.
During the 2021 Draft League season the three players drafted by the Dodgers were all pitchers. They included left-hander Ronan Kopp (Frederick Keys) and right-handers Michael Hobbs (West Virginia) and Madison Jeffrey (West Virginia).
How did the Dodgers three Draft League players fare in 2021? The following data is provided by Prep Baseball Report and includes standing in the top 10 or 20 in the league.
Top 20 Max Fastball Velocity (MPH)
Ronan Kopp    LHP 98.2 (3rd)
Madison Jeffrey    97.4 (6th)
Top 20 Overall CSW% (Called Strike, Whiff Rate)
Michael Hobbs    RHP 47% (1st)
Ronan Kopp    LHP 35% ( 15th)
Top 20 Individual Pitch CSW% (30 pitch min.)
Michael Hobbs    RHP    Slider – 65% (1st)
Top 20 GB% (15 IP min.)
Michael Hobbs    RHP  51.61% (20th)
Top 20 FIP (15 IP min.; based on 2021 Division I constants)
Michael Hobbs    RHP  0.44 (1st)
Top 10 ERA
Michael Hobbs     RHP    0.60 (4th)
Ronan Kopp     LHP        1.46  (8th)
Top 10 WHIP
Michael Hobbs    RHP    0.47 (1st)
Top 10 Strikeouts
Ronan Kopp    LHP    45 (6th)
Top 10 K/9
Michael Hobbs    RHP  17.4 (1st)
Ronan Kopp    LHP     16.56 (5th)
Top 10 BB/9
Michael Hobbs     RHP     1.80 (7th)