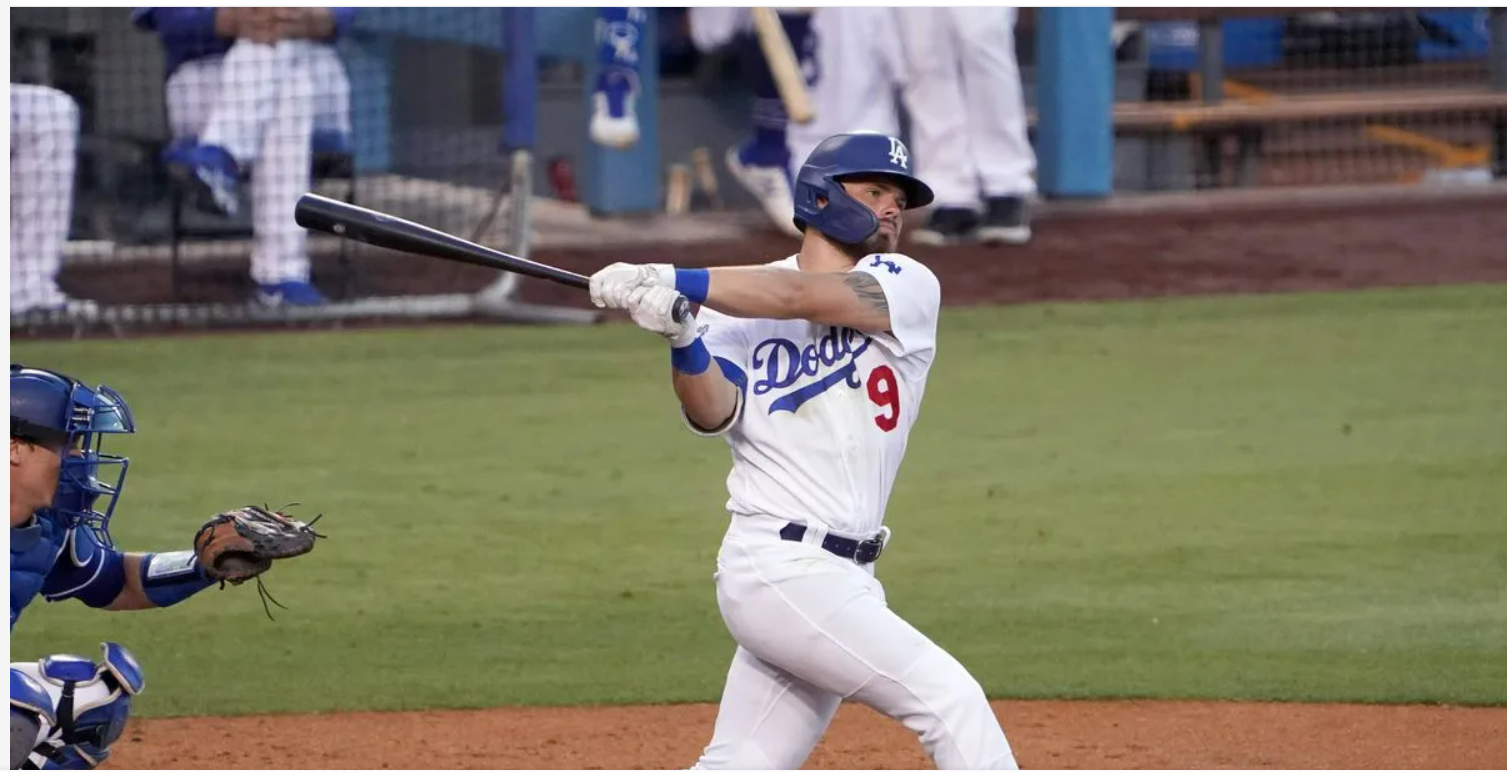 It is time to see where the real holes in the LAD organization truly are…2B/SS.  As of right now, the 2B at OKC will be Jorbit Vivas, and the SS will be Austin Gauthier.  I wrote about both in the 3B discussion, so I am going to cut and paste for them in this column as well.
23 year old infielder from Venezuela, Jorbit Vivas. Vivas is another in the long line of utility infielders in the Dodgers system.  Jorbit is more of a 2B who can play 3B.  Vivas has been pushed a little because he was added to the 40 man after the 2021 season.  He has one option year remaining before he needs to stick to the MLB roster without being designated for assignment, beginning 2025.  Jorbit is the Dodgers #10 prospect in MLB Pipeline.  Here is their Scouting Report.  Scouting grades: Hit: 60 | Power: 40 | Run: 45 | Arm: 45 | Field: 50 | Overall: 50
Vivas' 5-foot-10 frame and ability to barrel balls seemingly at will from the left side of the plate are reminiscent of countryman Luis Arraez, His size and fast hands produce a short, quick swing that makes contact with all types of pitching in any part of the strike zone. He generates some sneaky pop (mostly against right-handers) that could translate into 10-15 homers per season, has the patience to draw walks and adds to his on-base ability with a knack for getting hit by pitches.  
Most of Vivas' value comes from his bat because he has fringy speed and arm strength, limiting his effectiveness on the bases and in the field. He's a sure-handed second baseman with decent range but not much versatility. He has seen considerable action at third base, but the game speeds up on him there and his arm isn't suited for the hot corner. 
25 year old undrafted free agent Austin Gauthier for $20,000.. He was listed as the projected OKC 3B, but unless there are SS additions to the organizational roster, he will probably be needed to assume the SS position.  He is a contact first over power hitting infielder.  More of a LAD specialty as a utility player.  He could replace CT3 in a couple of years more than Muncy.  He played very well at Great Lakes and Tulsa last year.  He has more career BB than K.  His career slash line is .291/.433/.433/.866.  He is not a MLB 3B.  Gauthier has moved from undrafted in 2021 to the LAD #30 prospect according to MLB Pipeline.  I do see him as a MLB player, just not as a LAD 3B.  Utility player?    Austin is the LAD #30 prospect in MLB Pipeline.  Here is the scouting report:  Scouting grades: Hit: 55 | Power: 45 | Run: 50 | Arm: 50 | Field: 45 | Overall: 40 
A right-handed hitter, Gauthier controls the strike zone better than any hitter in the Dodgers system, making regular line-drive contact while working counts and drawing plenty of walks. He focused on adding strength last offseason and is hitting the ball harder than ever in 2023, though most of his power goes to the opposite field. He offers 15-homer potential and might have more if he looked to launch more balls to his pull side. 
 Gauthier possesses average speed and is an opportunistic baserunner. He can get the job done all over the infield and on both outfield corners, though his average arm is a bit stretched at shortstop. He fits best at second base and profiles as an offensive-minded utilityman. 
2B
Taylor Young – Bats Right, Throws Right – 5'9" 170 pounds – Young is penciled to be the Tulsa (AA) 2B to begin the 2024 season.  Taylor was the 8th round pick in the 2022 draft as a 5th year senior at Louisiana Tech.  He was a bit older than other draft picks, as his professional career began at the baseball age of 22 (actually 23).
At Great Lakes in 2023, Young batted .246/.375/.363/.738.  He had 112 K and 82 BB in 545 PA.  7 HR, 21 doubles, 5 triples.  His best skill is speed – 56 SB against 5 CS.  He was HBP 13 times, grounded into 9 DP, and 6 sacrifice flies.
Defensively, Young appears to be a competent 2B.  He played 2B 791.1 innings and had 338 total chances.  129 putouts, 205 assists, 4 errors, 49 DP.  There is no range factor for him.  But his .988 fielding percentage opens eyes.
Wilman Diaz – 20 year old (in 2024).  Bats Right, Throws Right – 6' 2" 182 pounds – Diaz is penciled in to start the year at Great Lakes at 2B.  Diaz signed in January 15, 2021, from Maracay, Venezuela.  According to industry sources, Wilman signed for $2,697,500.
Diaz started his professional career very poorly.  He fell off the prospect list VERY quickly.  He started to turn things around in 2023.  He split his time in the Arizona Complex League (rookie) and Rancho Cucamonga (California League – A ball).  In 293 PA, Wilman batted .256/.311/.429/.740 with 9 HR (8 at RC).  He also had 104 K )(35.5% K rate) and 17 BB (5.82% BB rate).  He is not a big base stealer.  He was successful with 10 SB in 15 tries.
Diaz has resurrected his career.  He is going to need to cut down (way down) his K rate if he continues to want to climb back up the prospect ladder.
Oswaldo Osorio – 19 year old (in 2024).  Bats Left, Throws Right – 6' 1" 171 pounds.  Osorio does not turn 19 until April 2024. Osorio was signed as a IFA out of San Felipe, Venezuela in January 2022.  Osorio showed advanced plate discipline at 17 in the DSL, with a solid swing that should continue to produce contact. His agent was none other than former Giants star Pablo Sandoval.
Osorio spent the entire 2023 series in Arizona at the Rookie League Complex.  In 201 PA, .262/.393/.445/.838, 6 HR, 6 doubles, and 3 triples.  He had 54 K (26.9%) and 29 BB (14.4%).
If Osorio starts the season at RC as a 19 year old, he is worth watching to see how much he will develop.  He is going to need to physically mature as well as developmentally.  I do not anticipate Osorio making the 30 top prospect list this year, but he is certainly capable depending how he plays in affiliated ball.
Elio Campos – 20 year old (in 2024).  Bats Right, Throws Right – 6' 1" 171 pounds.  Campos was signed as a IFA out of Valencia, Venezuela in January 2021.  Campos just completed his 3rd season in the DSL.  In 191 PA, he batted .321/.432/.353/.785 with 0 HR, 3 doubles, and 1 triple.  He has a tremendous eye and bat to ball skills.  He had 18 K (9.4%) vs 29 BB (15.2%).  Campos has some SB skills with 19 SB and only 3 CS.  Campos is a little older to start at the ACL.  But his bat to ball skills and ability to get on base are impressive enough to continue to monitor.  He is not a top 30 candidate.
Raynier Ramirez – 19 year old (in 2024).  Bats Right, Throws Right – 5' 10" 185 pounds.  Ramirez was signed as a IFA out of Las Matas de Farfan, D. R.  in April 2023.  Ramirez was in the DSL for the entire 2023 season.  In 149 PA, Ramirez batted .265/.403/.513/.916, 6 HR, 9 doubles, and 1 triple.  He had 36 K (24.2%) and 28 BB (18.8%).  Currently Ramirez is penciled in for Arizona Complex Rookie League.  He could start the season in the DSL and then make his way to Arizona.  But there does not appear to be an abundance of 2B options at the ACL for LAD.
SS
As of right now, the OKC SS appears to be Austin Gauthier.  Who are the next in line within the LAD system.
Alex Freeland – 22 year old (in 2024).  Bats Both, Throws Right – 6' 2" 200 pounds, drafted in Round 3 of the 2022 draft out of Central Florida. He played all of 2023 at Great Lakes where he hit .240/.345/.362/.707 in 461 PA.  He had 9 HR, 17 doubles, 2 triples, 60 BB (13.0%) and 131 K (28.4%).  He had 31 SB with 8 CS.
He was almost exclusively a SS (2 starts at 2B).  In 109 games and 936.1 innings played at SS, Alex had 391 total chances, and committed 15 errors (.962 fielding percentage).
FanGraphs' Scouting Report:  Hit 45, Power 50, Run 40, Field 55, Throw 60, Overall 35+
Freeland's best offensive skill is his feel for the strike zone. He struggles to cover the outer third of the zone from both sides of the plate but sprays extra-base contact to all fields. Freeland's actions, internal clock, and arm strength are all fits at shortstop, where he played in college, though he may not have enough range to play there in the big leagues and could slide to third base. He deserves a shot to prove he can play short as he climbs the minor league ladder. He projects as a role-playing infielder.
Freeland projects to be the starting SS at Tulsa in 2024.
Sean McLain – 23 year old (in 2024).  Bats Right, Throws Right – 5' 11" 170 pounds, drafted in Round 5 of the 2022 draft out of Arizona State.
Sean is the brother of the Red's primary 2B, Matt McLain.  That is the closest the Dodgers will get to Brother Matt.
Sean did not have a good start to his professional career in 2022 which may have been the reason he started the year in extended ST and Arizona Complex League.  After 3 games he was assigned to Rancho Cucamonga.  He only played 5 games before he was placed on the IL for the season.  He accumulated 35 PA and obviously his numbers were not important with such a small sample size.
He was not included in FanGraphs Top 51 for 2023.  He is projected by FanGraphs to open the season at SS for Great Lakes (A+).  He has missed a lot of baseball, so this might be a big jump for him.
Joendry Vargas – 18 year old (in 2024).  Bats Right, Throws Right – 6' 4" 175 pounds, signed as IFA on January 15, 2023, from Santo Domingo, DR.  I have written multiple pieces on Vargas.  Vargas spent the full year in the DSL where he batted in 208 PA:
.328/.423/.529/.952, 7 HR, 12 doubles, 1 triple, 30 BB (14.4%), 31 K (14.9%).
Joendry was ranked No. 3 in the 2023 crop of IFA by MLB Pipeline, and signed for $2,077,500.  He's just 18 years old and will need time to develop, but he has the highest ceiling of any of the SS in the LAD system.
Per MLB Pipeline: – Scouting grades: Hit: 55 | Power: 55 | Run: 50 | Arm: 60 | Field: 55 | Overall: 45
A former switch-hitter, Vargas now bats exclusively right-handed. He has a sound swing and an advanced approach, patiently stroking line drives to all fields. With his bat speed and the oodles of projectable strength in his 6-foot-4 frame, he could grow into 25-homer power while also producing high batting averages. 
 Though he's bigger than most shortstops, Vargas has good actions, range to both sides, reliable hands and plus arm strength. He's one of the more polished hitters and defenders in his international class. An average runner who could lose some quickness as he matures physically, he'd profile well at third base if he had to move off shortstop. 
At 18 and 6'4", I believe he will eventually grow out of the position and be moved. But for now, he is going to play SS until he proves that he cannot.
FanGraphs has Joendry starting at SS for Rancho Cucamonga for 2024.  That is a big jump from the DSL, but he is capable of playing at the level, and I do hope the Dodgers push him.
Bryan Gonzalez – 18 year old (in 2024).  Bats Right, Throws Right – 5' 10" 161 pounds, Bryan was drafted in the 6th round in the 2023 draft out of the Carlos Beltran Baseball Academy, Puerto Rico.  He is reported as a SS/2B.  He only had 35 PA while starting his professional career in the Rookie League at the ACL.  Not nearly enough of a sample size to report.
FanGraphs projects to start 2024 back in the Arizona Complex League.
Alexander Albertus – 19 year old (in 2024).  Bats Right, Throws Right – 6' 1" 176 pounds. Alexander was signed as a IFA in June 2022 from Oranjestad, Aruba.
Albertus started the year in the DSL but was later assigned to the Rookie League in the ACL. Overall with 170 PA, Albertus batted .310/.471/.468/.939, with 5 HR and 5 doubles.  Where he excels at is managing the strike zone.  He struck out 19 times (11.2%) but walked 38 times (22.3%).  That is not switched.  Alexander walked twice for every K.
Albertus is listed as a SS in FanGraphs' Roster Resource.  But he is in a long line of true LAD utility prospects.  Last year he started 23 games at 2B, 23 games at 3B, and 22 games at SS.  He is projected to start the season in the ACL.
Alexander was not included in FanGraphs Top 51 for 2023.
It does not take a lot of thought to understand that the Dodgers do not have much depth or overall talent at middle infield.  Not one of the above currently projects to be a regular at 2B or SS with the Dodgers.  If this does not scream the Dodgers draft/sign utility middle infielders, I do not know what does.  Of the group, Joendry Vargas looks to have the most talent, but he does not project to be a long-term SS.  SS/2B/3B/corner OF?  We will wait to see how he develops.  IMO, Vargas should be very near the "do not trade" status.