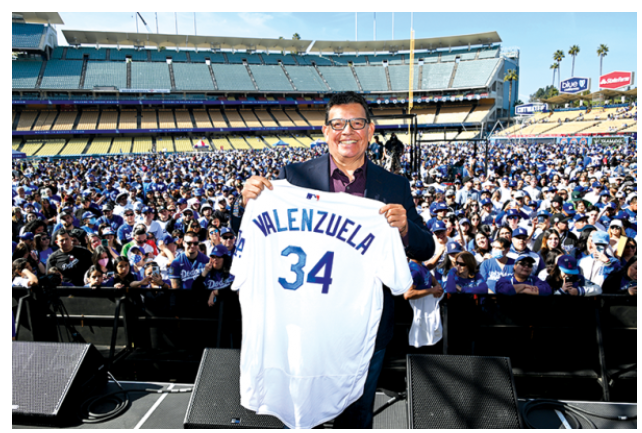 Last season the Dodgers retired Fernando's #34 officially. Some say it was way overdue. I felt the same way when they finally retired Hodges #14. Just like I felt Gil's election to the hall was way overdue.
Fernando joined Jim Gilliam as the only non Hall of Famers from the Dodgers with their number retired. Gilliam's was retired shortly after his death. No one had worn 34 since Fernando left the Dodgers in 1990.
So in reality it was sort of retired then. Most likely, if things go as most think they will, Kershaw's 22 will be the next one off of the board.
Kersh has been anointed a Hall of Famer by most baseball people today. His election five years after he retires is almost a foregone conclusion.
The only two players on the current roster whose careers are even close to HOF worthy are Betts and Freeman.
By his 35th birthday, Betts should be over 300 home runs and 2000 hits. Freddie will be over 400 by the end of his contract and closing in on 3000. But Freddie when elected would probably be put in the hall in a Braves cap. Mookie would definitely be in LA.
But is retiring numbers the best way to honor a team's stars? The Yankees have the most retired numbers of any baseball team. 23. One number, 8, is retired for two players, Berra and Dickey. 10 of those 23 numbers are retired for players not in the hall.
But the Yankees also honor their best with a monument park in center field at Yankee Stadium. No Yankee will ever wear a number below 10 again, all of them are retired.
The Dodgers display the retired numbers in a ring of honor just below the press level at Dodger Stadium. There are also giant numbers around the stadium at different levels showing the retired numbers.
The Dodgers also started honoring former stars with their Legends of Dodger baseball bobbleheads and a day at the ballpark.
Current members are Garvey, Hershiser, Newcombe, Valenzuela, Mota. There will probably be more to come. There are also some plaques around the stadium with Koufax, Big D and others.
Myself, and I am probably in the minority here, I think retiring a number should be reserved for Hall of Famers, or a player who spent his entire career with the team and was, like Gilliam, an integral part of a winning culture. But that is just me.
Fernando was a phenomenon that came from nowhere and his impact on the city was unbelievable. I lived through Fernandomania and it surprised me. So he earned it.
But I do think the Dodgers really need their own Hall of Fame like many teams have, and they need somewhere to display memorabilia from their best players.
I also believe it is time for MLB to finally recognize the contributions of Roberto Clemente to the Latino community and baseball itself, and retire his # 21 all around the league. He had as much impact on bringing Latin players to the majors as Jackie did with the black players.
There will come a point in time when retiring numbers will not be a feasible way of honoring your best. They are bound to run out of numbers sometime.