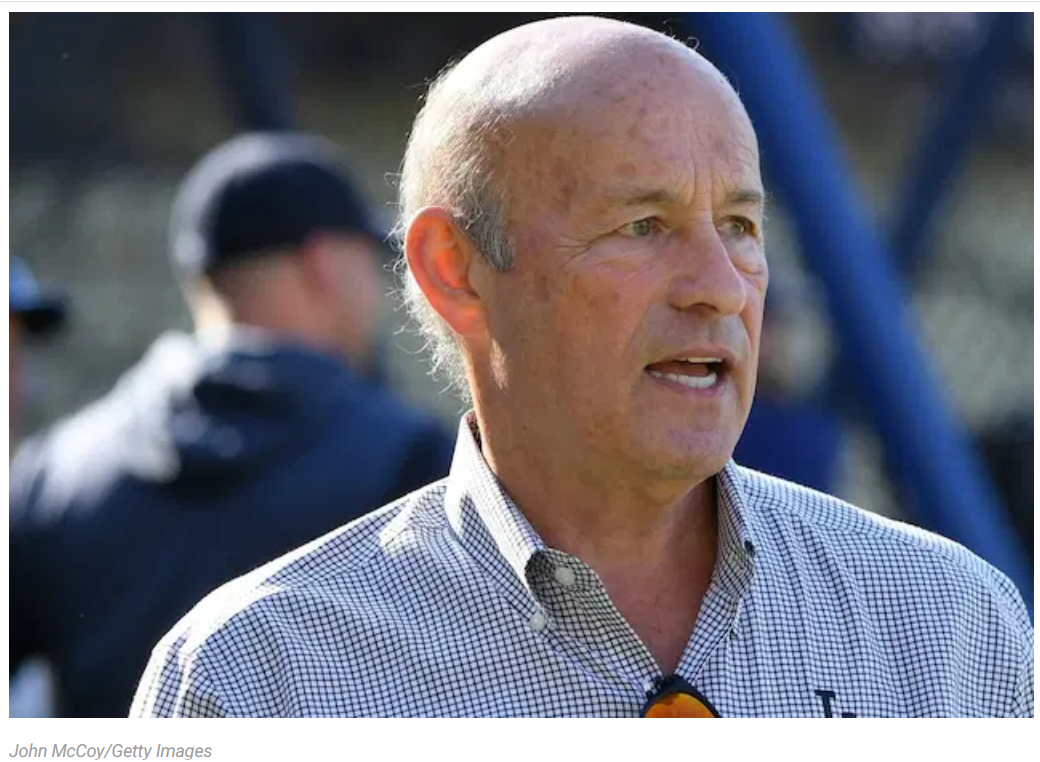 Bluto directed us to a Bill Plaschke column in the LA Times where Kasten gave an interview, hinting at what we fans should expect this winter.  This article triggered a depression episode for me (literally).  So while reading my rant below, please take that into consideration.
"Earlier in the last decade, we had a wave of young guys who were going to be real contributors.  We think we are now on the precipice of the next wave of young guys. We need to make room to allow that to happen."
Or the cynic in me believes he is saying that "we can watch the WS on the television on a $220MM payroll just as easily as we can with a $300MM payroll."
Does not sound promising for JT or Cody. Or probably Kersh and Anderson.  Got to keep those pitching spots open for the youth movement.
Stan Kasten needs to keep his image of building good teams that cannot finish. Nobody is better at near misses than Second Best Stan. We already know the 2022 team could not finish. Heck they couldn't get out of the NLDS against a team they owned in the regular season. I know…short series crapshoot.  I am so tired of hearing that.  The best team in baseball is the Houston Astros and they kicked ass in all three of their short series (11-2).  The Dodgers just rolled over.  Make all the excuses you want, but that is what happened.
Are we are supposed to believe that Miguel Vargas, James Outman, Michael Busch, Bobby Miller, and Gavin Stone are going to win it all when Trea Turner, JT, Cody Bellinger, Clayton Kershaw, and Tyler Anderson couldn't.  And they still have not replaced Walker Buehler.
Kasten continued,
"I'm blessed and thankful our people put us in a position to contend for a championship every year, and I look forward to that continuing."

 "You can enjoy the whole year without just focusing on the last game or games of the year."
I guess that is what we Dodger fans should hope for in the future.  Winning the Championship is secondary to just contending every year.  After all, he also pointed out…fans actually vote with their wallets, and as long as the Dodgers annually lead the league in attendance by a large margin, well, the new Dodger Way is working.  Okay the last part is per Plaschke, but is he wrong?  Why should the Dodgers change?  They have the second best TV deal (next to NYY), and lead attendance every year.  They are a cash cow.  The fans are showing with their wallets that not winning a WS Championship is apparently okay with them, according to Kasten.
For this fan, a WS championship once every 35 years is just not good enough for a team that seemingly has everything. By that standard, I will never see another LAD championship.  But I should be satisfied because the Dodgers could win 100+ games every year, even if they cannot finish with the parade.
I WILL NEVER STOP BEING A DODGER FAN.  I have been one since 1958.  But I am allowed to show my disappointment.  I have this blog and I am free to post all of the changes I would like to see, even if Bluto reminds us that what we say does not mean a thing, because we have no control or input.  But regardless as to how superfluous Bluto thinks it is, I will continue to vent.
I have maintained that the team will drop under the $233MM CBT threshold in 2023.  That would seem to indicate that a lot of youth will be on the roster, and a lot of the big 2022 contracts will be gone.  So be it.  Per Kasten,
"I'm sure there are ways that we can get better. … We can't accept that there's no way we can get better. … That's not an acceptable conclusion," he said. "You can look at everything that happened and you can look at everything we did … you hope the breaks even out over a period of time, but we always assume there are things we can do to get better."
So that change is apparently going with a youth movement.
I will continue to believe in a team with a rookie at 2B (Michael Busch), a rookie at 3B (Miguel Vargas), a 2B who will go back to SS (Gavin Lux), and #4 OF starting in LF (Trayce Thompson), and another rookie in CF (James Outman).  Even if that will be one of the very worst defensive infields in MLB.  Or perhaps another Rookie in LF (Andy Pages).  With rookies Gavin Stone and Bobby Miller in the rotation, and rookies Ryan Pepiot and Michael Grove in the bullpen, what could possibly go wrong? Out with the old and in with the youth.
So the Dodgers will silently build for 2024 and 2025 when the youth movement will then take Julio Urias and Walker Buehler from the rotation, and 130 innings Tony Gonsolin will be the Ace.
The team will have 25 RHP in AAA and AA with a 45-50 FV, waiting and waiting and waiting instead of being packaged for a pitcher or CF or big RH bat, who might actually help.  Let's not forget the 6 catchers and 17 utility players.  Because we all know that defensive diversity is more important than defensive excellence.
Houston had two rookies on the WS roster, one was uber SS Jeremy Peña,  and the second was reserve David Hensley.  The Phillies had two.  One was an integral part of the lineup, SS Bryson Stott, and the second is 31 year old RHRP Andrew Bellatti.  Yes a 31 year old rookie.
But the Dodgers are going to win the WS with 3 (or 4) rookie starters and 2 rookie pitchers in the rotation (pick 2 any 2)?  Because "We think we are now on the precipice of the next wave of young guys. We need to make room to allow that to happen."
Sounds like the Oakland A's mentality.  Or Miami Marlins, or Tampa Bay Rays, or Cincinnati Reds, or Pittsburgh Pirates, or KC Royals.  KC at least has won as many WS championships in the last 8 years as have the Dodgers.
And what happens if that youth movement is not as good as the previous one that included Corey Seager, Joc Pederson, Cody Bellinger, Yasiel Puig, Julio Urias, and with an Ace already on staff, HOF Clayton Kershaw?  Every one of those players were rated higher than any of the incoming rookies.
BTW, who here sees Dustin May or Tony Gonsolin or Bobby Miller as a future HOF?
I continue to read that some simply believe that the Astros are winning now because they tanked.  If that were true, then why hasn't Oakland, Pittsburgh, Cincinnati, Baltimore, or Miami been winning? Somebody is not doing their research on Houston.
Astros World Series Roster 
Astros pitchers 
Bryan Abreu – International Free Agent 2013
Hunter Brown – 2019 Draft – 5th Round
Luis Garcia – International Free Agent 2017
Cristian Javier – International Free Agent 2015
Lance McCullers, Jr. – 2012 Draft 1st Round (#41)
Rafael Montero – Trade from Seattle July 2021
Héctor Neris – Free Agent 11/2021
Ryan Pressly – Trade from Minnesota July 2018
Will Smith – Trade from Atlanta August 2022
Ryne Stanek – Free Agent 01/2021
José Urquidy – International Free Agent 2015
Framber Valdez – International Free Agent 2015
Justin Verlander – Trade from Detroit – August 2017
Astros catchers
Martín Maldonado – Trade with Chicago Cubs July 2019, resigned as FA 2019
Christian Vázquez – Trade with Boston August 2022
Astros infielders
Jose Altuve – International Free Agent 2007
Alex Bregman – 2015 Draft – 1st Round (#2)
Aledmys Díaz (IF/OF) – Trade with Toronto November 2018
Mauricio Dubón (IF/OF) – Trade with SFG May 2022
Yuli Gurriel – International Free Agent 2016
David Hensley – 2018 Draft – 26th Round
Trey Mancini (IF/OF) – Trade with Baltimore August 2022
Jeremy Peña – 2018 Draft – 2nd Round
Astros outfielders
Yordan Alvarez – Trade with LAD August 2016
Chas McCormick – 2017 Draft – 21st Round
Kyle Tucker – 2015 Draft – 1st Round (#5)
Houston tanked in 2011, 2012, and 2013.  In 2014, they were 70-92.  That would have beat 9 teams in 2022.  So Kyle Tucker did not come to Houston because they tanked in 2014.  Technically the 2022 team did benefit from the tanking with Alex Bregman.  Bregman was the overall #2 selection in 2015, and they got that because they did not sign the overall #1 pick in 2014, LHP Brady Aiken.  How lucky for Houston that Aiken did not sign.  They got Bregman the next year, and Aiken was drafted again in the 1st round of 2015 (#17) by Cleveland, and he never reached above low A.  Out of baseball after 2019.
Lance McCullers did come out of one of those tanking drafts (2012), but he was overall #41 selection in 2012.  Drafting a pitcher overall #41 is not a benefit of tanking.  Carlos Correa was a 1/1 after the team tanked, but he is no longer with Houston.  The Astros just won a legit WS with Jeremy Peña at SS with Houston and Correa in Minnesota.
This nonsense that Houston built the current juggernaut only because they tanked is just that…nonsense.
I love the kids.  Always have, always will.  They want to add Vargas or Busch or Outman in the lineup I am okay with that.  But all three?  And I am okay with one of the kids in the rotation and one in the bullpen.  But four rookie pitchers?
I do not want to do the research right now, but maybe someone knows.  What WS team won with 2 rookies in the everyday lineup and 3-4 key rookie pitchers?  I am guessing none.
Badger wrote that you cannot build a WS winner in April.  I think that is true, but you can certainly lose one.
I will wait until I see what the Dodgers actually do this winter.  Maybe Kasten is doing his sleight of hand routine with his youth movement remarks.  Maybe he is building up the youth for trades.  It is hard to trade quality youth if you do not believe in them.  It is hard to convince a team to accept one of the MLB ready prospects, when you do not believe they are good enough to play on your team.  Or he is being literal with advising us to expect a youth movement.  We will soon see.
I will continue to praise and vent as I see fit.
Thanks for putting up with my rant.