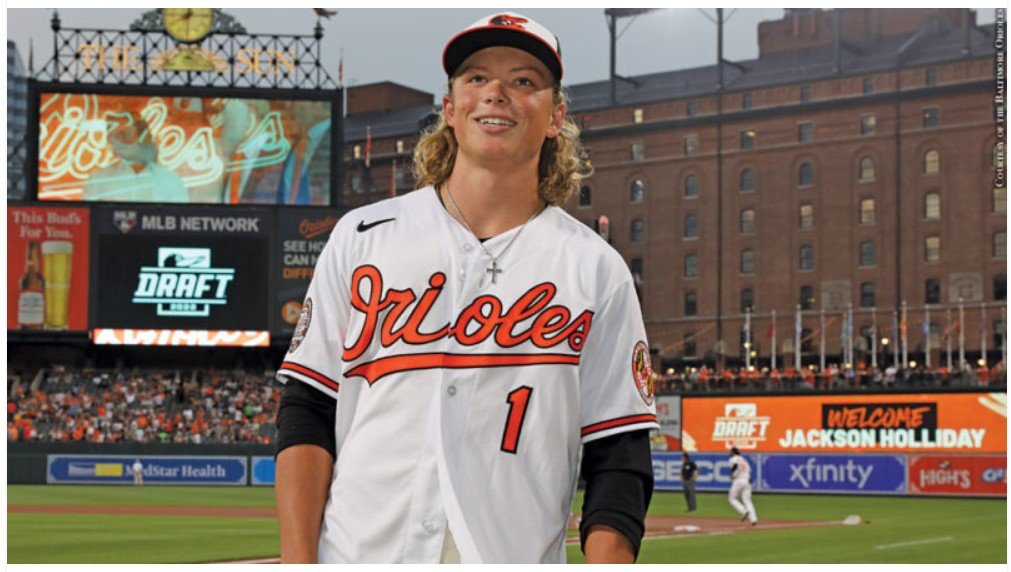 Earlier in the week, Bums wrote: 
There are a lot of good shortstop prospects on other teams and the Dodgers have some good looking pitching prospects.
This is what confounds me a bit with the overall trade dynamic. Trading prospects for prospects is deemed verboten. At least that is how it looks to me. I cannot remember the last Diego Cartaya for Pete Crow-Armstrong trade. And yes, I would make that trade.
I believe it was STB and I who were discussing Cincinnati's treasure trove of middle infielders and their need for OF. The Reds loaded up last year at the trade deadline with SS prospects, Noelvi Marte and Edwin Arroyo, from Seattle in the Luis Castillo trade.  They already had top SS prospect, Elly De La Cruz. I think we came to a conclusion that maybe Andy Pages for Matt McLain might be workable. Now that Matt McLain is in MLB, that seems out.
Top SS prospects per MLB Pipeline:
#1 – Jackson Holliday (Pictured) – A+ – Baltimore – There is about as much chance with Oakland winning the WS this year than getting Jackson Holliday out of Baltimore. Jackson Holliday may be about as untouchable as any player in MiLB. Maybe Ethan Salas – San Diego 17 year old catcher. There is a good possibility that Holliday could be the overall #1 prospect by pre-season 2024.  He is 19 and already destroying A+ pitching and should be in AA before too long.  He is on the Vlad Guerrero Jr. and Wander Franco trajectory. He will be called up late 2024 and be the O's MLB SS in 2025.
#2 – Elly De La Cruz – AAA – Cincinnati – Just below the chances of Holliday being moved. Not happening.
#3 – Marcelo Mayer – A+ – Boston – Boston is pushing him as fast as they can. He is 20, at High A, and crushing it.  He should get pushed to AA before too long.  If he can prove he can play at AA, he will be in the discussion for Boston's everyday SS in ST 2024.
#4 – Jordan Lawler – AA – Arizona – He is 20 in AA – He is being challenged, but he owned A Ball, so there is no reason to go backwards. He fits in with the speed racers that Arizona is producing. He is exactly what Arizona would look for in a SS.
#5 – Jackson Merrill – A+ – San Diego – San Diego may in fact trade Jackson Merrill this year, but it will be in a package for an established player. He will be the #1 ask from any selling team at the deadline.
#6 – Marco Luciano – AA – San Francisco – SF is about as bereft in middle infield prospects as are the Dodgers. Luciano is not going anywhere.
#7 – Noelvi Marte – AA – Cincinnati – He is 21 and in AA and playing very well. He is playing mostly SS but also getting acclimated to 3B. It appears that Cincinnati prefers Marte at 3B, but will let that work itself out. He is a bat first infielder, with better defensive chops than Vargas or Busch.
#8 – Brooks Lee – AA – Minnesota – He was a 1st round pick out of Cal Poly SLO last year and is in AA. Not tearing it up, but playing well. IMO, he is a notch or two below Alex Bregman. He is being pushed by Minnesota, as Bregman was by Houston, and with Correa at SS, Lee is going the Bregman route and should by the Twins 3B sometime next year. Lee is my next Bregman.
#9 – Colson Montgomery – AA – Chicago White Sox – 21 year old just learning AA. CWS will be doing a tear down probably this year. Montgomery is who they would look for in a tear down, so he is not going anywhere.
#10 – Edwin Arroyo – A+ – Cincinnati – 19 year old at High A. Not tearing it up offensively. He is a glove first SS. He will be a ML SS if he continues to develop the bat.
Those are the top 10 SS prospects in MiLB. Right or wrong, the Dodgers are not trading with Arizona, San Francisco, or San Diego. The first three prospects are not going anywhere. Noelvi Marte does look like a player who the Reds might consider trading. Marte is #21 MLB Pipeline and Bobby Miller is #19. Brooks Lee is #23. Yes the #8 SS prospect is the overall #23 prospect. Would you trade Bobby Miller for either Marte or Lee? Will Cincinnati or Minnesota make that trade?
I do think Jackson Merrill is a legit trade chit. But they will wait to see who the sellers are in July and try to find the best MLB player to bolster their roster. Maybe San Diego needs yet another SS and trades for Tim Anderson or Amed Rosario.
The only other SS prospect who might be available is Cincinnati's Edwin Arroyo. But I would not trade any of the LAD AA starting pitchers straight up for Arroyo. There is nothing to indicate that Arroyo will develop into anything more than Jacob Amaya. The Dodgers would prefer to wait on Eddys Leonard rather than part with a pitching prospect for a glove 1st SS in High A. Dodgers prefer bats to gloves anyway.
So while I agree that the Dodgers do need an elite SS prospect, who would you have in mind. Yes, I agree that Bobby Witt Jr. should be traded, he will not be. Find SS #2.
I am still bullish on Jordan Westburg, Baltimore's AAA SS/2B/3B/OF.  He fits perfectly in the LAD system.  Jordan was drafted the next pick after Bobby Miller.  There were many pundits who thought the Dodgers were going to select Westburg.  They selected Miller, and he made his MLB debut before Westburg.  But Westburg should not be far behind.  He could be the super utility player to spell the O's infielders and outfielders.  Or he could replace Adam Frazier as the everyday 2B or Jorge Mateo as the everyday SS.  They have a lot ways they could go, but Westburg is definitely in their plans. It will take a lot to get Westburg from Baltimore.