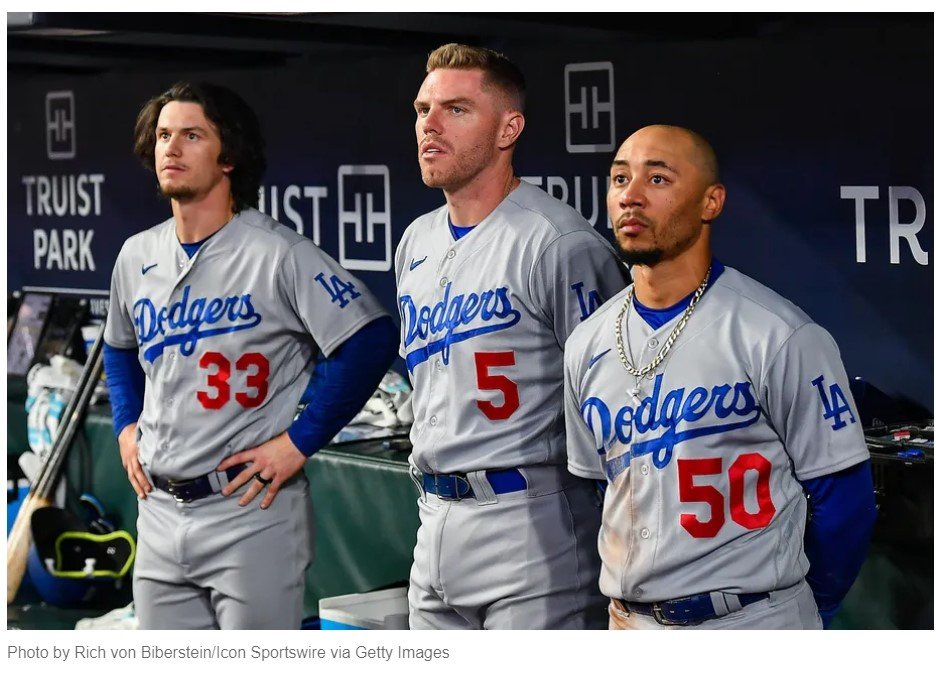 You knew it was not going to be easy to sweep the Braves in Atlanta. The two teams' best pitchers this year were going to face off against each other.  The Braves' Bryce Elder did his best Houdini by navigating through a lot of traffic in the first four innings without allowing a run.
Although it would have been nice to see what might have been had the plate umpire not called two pitches that were clearly balls, strikes.  I know it happens to both teams, but it sure feels like it happens to the Dodgers at the most inopportune time.  Or maybe it is just my bias  And JDM got two horrendous calls.
The Dodgers put 7 runners on base in the 1st 4 innings, but could not get anyone across.  They left 2 runners on base in each of the first three innings.  They got the leadoff batter on in the 4th but a nifty DP by the Braves erased the Miguel Vargas after he reached via HBP.
Meanwhile, Tony Gonsolin was breezing through the first 10 batters, retiring all 10 on 36 pitches and 3 K.  But Matt Olson worked a 7 pitch AB with a monstrous HR.  It was 456 feet with an exit velo of 115.9 MPH.  It was most certainly no cheapie.
Mookie then hit a ball 365 feet with an exit velo of 105 MPH.  Olson's was more majestic, but the counted as one run each.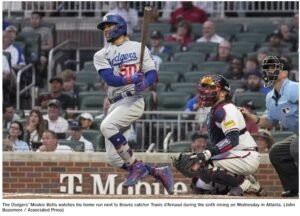 In the 5th, with one out, Gonsolin could not find the plate for Ozzie Albies.  After 1 strike, he threw 4 pitches that were never close and Albies drew a one-out BB.  And on a 2-2 pitch he left 87.4 MPH slider that did not break much out over the middle of the plate that Marcell Ozuna crushed for a 2-run HR and a Braves 3-1 lead.
With one out in the 6th Austin Riley cracked a double into LF. That was the third hit of Gonsolin, and all three had an exit velo of 107 or greater.  Austin went to 3rd on a F-8, and Shelby Miller was brought in to get Eddie Rosario.  Miller did strike out Rosario for the final out of the 6th.
Miller pitched a 1-2-3 seventh inning.  And that set the stage for the Dodgers 8th inning rally.  Will Smith opened the 8th with a single of Nick Anderson.  After Max Muncy struck out, JDM doubled Smith to third.  Jason Heyward had a productive out with his run scoring ground ball, with JDM moving to third.  That brought Rookie Miguel Vargas to the plate.  With a clutch AB, Miggy hit a ground rule double to plate JDM with the tying score, and left a runner in scoring position,  Unfortunately, David Peralta could not get Vargas home.
With the help of a 6-4-3 DP, Victor González faced the minimum in the 8th.
With 2 outs, Freddie walked and moved to second on Will Smith's second hit of the game and 5th over the last two games.  Muncy had another chance to come through, but he popped out to end the LAD 9th.
With both Evan Phillips and Caleb Ferguson pitching in the first two games, neither were available to come in the 9th.  Phil Bickford (or as my wife calls him – The Pirate), came in to pitch the 9th.  Don't ask, I have no idea why she calls him The Pirate.  But in our household Bickford will be known as The Pirate.
Austin Riley led off with his 2nd double of the night.  He moved to 3rd on a Travis d'Arnaud ground ball to Freddie on a 3-1 out.  He needed a strikeout of Albies.  He got Albies to 1-2 and then had three foul balls before he hit a slider down but too much over the plate into RF for the walk off sac fly.
Bickford is going to blame himself, but on a night the pitching was very good except for two pitches, it was the offense that deserves the loss.  The Dodgers outhit Atlanta 12 to 5, and were 1-10 WRISP.
While as fans we can be upset for this loss.  However, the Dodgers still went into Atlanta in a playoff atmosphere to take 2 of 3 from the Braves. They started (and won with) two rookie pitchers. They outscored the Braves 19-11.  They batted .294 (33-112) for the three games.  There is a lot to build on.  It is going to be a bumpy road with many twists and turns.  They fought hard in this series and came back in two of them, winning one.   They did not give up.
Yes they lost the third game, but it was still a good series.  They are still in 1st place in the NL West, have the 2nd best winning percentage in the NL and 5th best in MLB.  What other team can lose the number of starting pitchers the Dodgers have, lose their starting SS, and be in this position?  Some may still like the Padres, but for me the Dodgers are the best TEAM.
Now go win 2 out of 3 in Tampa Bay.  The Dodgers will be pitching Noah Syndergaard, Clayton Kershaw, and Gavin Stone.  LAD should miss both Shane McClanahan and Zach Eflin.  I am not sure who Tampa Bay will be starting, but the Dodgers may have caught a break.
05-24-2025 – MiLB Summary Report
Sacramento River Cats (SF Giants) 6 – OKC Dodgers 5
OKC jumped out to a 5-1 lead after 5.  But Sacramento scored 1 in the 7th and 3 in the 8th to tie the score.
Sacramento scored an unearned run in the 1st after a two out fielding and throwing error put a runner on second, and a single scored him.
OKC tied it in the 3rd on a Justin Yurchak BB, and a pair of 2-out singles by Luke Williams and Michael Busch.  In the 5th, with 2 outs, OKC had three straight singles by Busch, Jonny DeLuca, and Ryan Ward, a BB to Devin Mann, and a double by Hunter Feduccia scored 4.
The first inning unearned run was the only run scored against Matt Andriese in his 5.1 IP.  With one out and a runner on 1st Alex Vesia came in to relieve Andriese.  He walked Matt Beaty, but struck out the next two batters.  Vesia came back out in the 7th inning.  He gave up a single to Michael Gigliotti.  Gigliotti moved to 2nd on a PB.  Moved to 3rd on a ground out and scored on a WP.  The first two River Cat runs were unearned, but they count just the same.
Mark Washington retired the first two batters in the 8th.  Two singles and a 3-run HR by Ricardo Genovese (2) tied the score.  Gus Varland pitched a perfect 9th.
OKC and Sacramento moved into the 10th.  With the runner on 2nd, two OKC batters struck out and one grounded out.
Keegan Curtis came in to relief in the 10th.  With runner at 2nd, Curtis walked the 1st batter he faced.  Hunter Feduccia had his 2nd PB of the game, and runners moved up to 2nd and 3rd.  David Villar singled to score the walkoff run.
Michael Busch – 3-5, 1 run, 1 RBI
Hunter Feduccia – 1-3, 1 BB, 3 RBI, double (5)
Yonny Hernandez – 1-3, 1 BB, double (6)
Tulsa Drillers 1 – NW Arkansas Travelers (KC) 0
This was a big time pitchers duel for 7.0 innings.  Both Landon Knack and Travelers' SP, Noah Cameron, were scoreless through 7, and both allowed 4 base runners. Knack allowed 4 singles, but no BB and 6 K.  Cameron allowed 3 singles and 1 BB to go with 6 K.  Knack's ERA is now down to 1.32 and his WHIP is down to 0.80.
Landon has had four consecutive games with at least 5.0 IP.  He allowed 3 runs in those 20.1 IP.  Now it is 3 runs in 27.1 in his last 27.1 IP.  He has allowed 2 earned runs in only 1 game this year.  He has accomplished what he has needed to do in AA.  It cannot be long before he is moved to AAA.  Can it?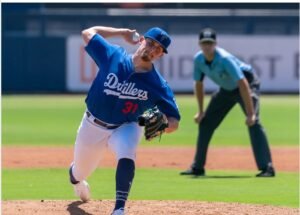 For the Drillers in the 10th, Diego Cartaya started at 2B.  Carson Taylor lifted a fly ball to CF that moved Cartaya to 3rd with 1 out.  Imanol Vargas was sent up to PH for Brandon Lewis, and was IBB.  Next batter was Kody Hoese.  He got two quick strikes, but fouled off the next two pitches before hitting a sac fly to RF to give Tulsa a 1-0 walk off win in 10 innings.
The Drillers had three singles.
Great Lakes Loons 7 – Peoria Chiefs 4
The Loons' Ronan Kopp was set to face the Chiefs 20 year old RHP, Tink Hence.  Hence is the Cardinals #3 prospect.  In the 1st inning, Austin Gauthier led off with a walk.  That was followed by an Alex Freeland single.  With one out, Damon Keith slugged his 7th HR of the season and a 3-0 lead.
Kopp matched his season high IP with 4.0.  Kopp struck out the side in the 1st, but he also allowed a double and run scoring single between the strikeouts.  Kopp allowed one additional single and one BB, but retired the side in order in his final inning.  He threw 48 pitches in his 4.0 innings.
Robbie Peto relieved Kopp and pitched a scoreless two innings.  In his third inning he gave up a leadoff single.  With one out, he allowed a run-scoring double.
Juan Morillo pitched a scoreless 8th inning. Hoping the 1st inning 3-run HR would hold up, Antonio Knowles was called in for the save.  However he surrendered a game-tying HR in the 9th.
In the 10th, it was all Loons.  With Frank Rodriguez starting at 2B, Austin Gauthier worked a BB.  Alex Freeland followed with a run scoring double.  Taylor Young singled home 2 more.  After Damon Keith flew out to RF for the 1st out, Ismael Alcantara drew a BB.  Young stole 3rd and scored on a fielder's choice.
Staked to a 4 run lead. Aldry Acosta was brought in to shut down the Chiefs and preserve the win in a non-save situation.  With a runner on 2nd, a fly ball moving the runner to 3rd, and a WP scored the one and only run Peoria would score in the 10th.
Alex Freeland – 3-5, 2 runs, 1 RBI, double (7)
Damon Keith – 1-5, 1 run, 3 RBI, HR (7)
Taylor Young – 1-5, 1 run, 2 RBI
Lake Elsinore Storm (San Diego) 8 – Rancho Cucamonga Quakes 2
Chris Campos did not have a good outing in this one.  He allowed 5 runs by walking 4 and allowing 3 hits in just 2.1 IP. Kelvin Bautista allowed 3 unearned runs to push the score to 8-0.
Fran Castro relieved Bautista in the 5th, and navigated through a couple of scoreless innings with a lot of traffic, allowing a double, 2 singles, and a BB.
For the 1st 6 innings, RC was able to muster just a single (Nick Biddison) and two walks.
Christian Reubeck, Carlos Martinez, and Jon Edwards pitched the final 3.0 innings with out allowing a run or hit.  The did issue 2 walks, but registered 7 Ks.
RC finally broke through in the 7th.  A walk to Thayron Liranzo, and singles by Nick Biddison and Dayton Dooney scored a run.  In the 8th, Chris Newell drew a leadoff walk.  With one out, Thayron Liranzo singled Newell to 3rd, where he scored on a WP.
Nick Biddison – 2-4, triple (2)