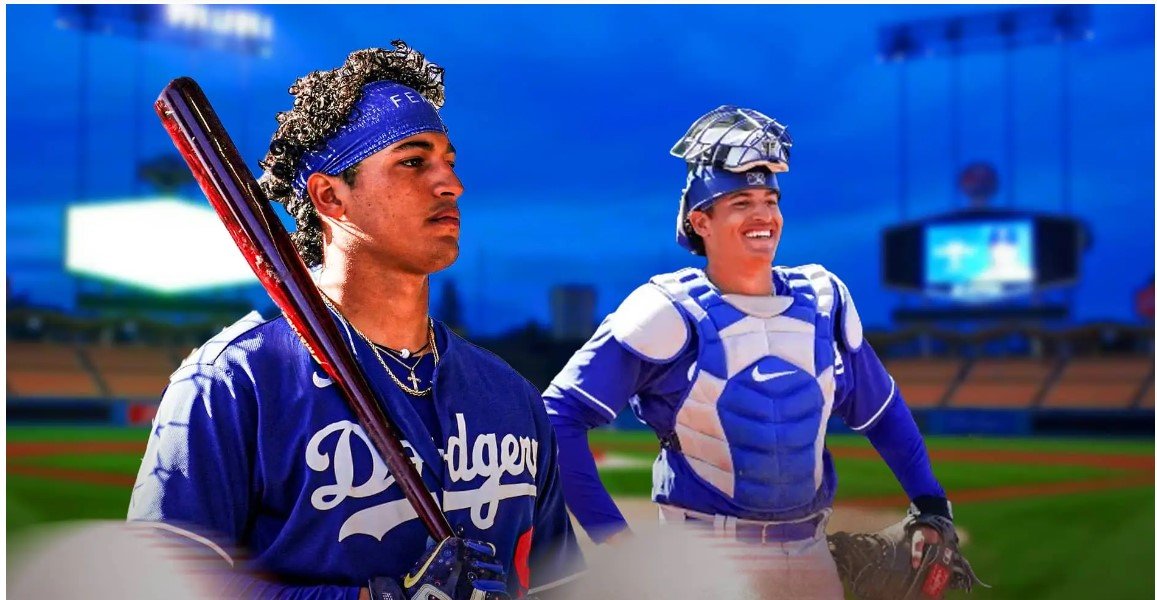 There are multiple things that is driving Diego Cartaya's perceived value down.  First and foremost it is now and has always been PERCEIVED value.  The Dodgers more than any other team get preferential valuation on prospects.  I often refer to it as Dodger hype.   Cartaya was an advanced 16 year old catcher in Venezuela.  Would he stay as advanced?  That is always a question for the International market whose top prospects are signed as 16 year olds.
Cartaya scouting report when signed:
Cartaya displays plus contact skills and has been praised for his pitch recognition and feel for the strike zone. He has shown some power to the gaps. On defense, Cartaya has a reputation as a great receiver with very good hands. He handles pitchers well and has a high baseball IQ.

Dodgers manager Dave Roberts said he had a chance to briefly see Cartaya, but has yet to watch him play.

"Didn't see any video," Roberts said. "Didn't see him hit or anything, but from what I understand from our scouts, very excited about him. The body is a very mature body. Really talented kid from what I understand, and so I know we're excited."
Cartaya first hit the LAD Top 30 in 2019 at #10 for MLB Pipeline.  Here is the first go at his scouting grades with MLB Pipeline
MLB Pipeline 2019
Scouting grades: Hit: 55 | Power: 45 | Run: 35 | Arm: 60 | Field: 55 | Overall: 50
Cartaya's feel for barrel and the strike zone stands out for such a young player. He recognizes pitches well and is willing to use the opposite field, emphasizing making hard contact over selling out for power. As he learns to turn on pitches and use his lower half more in his right-handed swing, he could produce 15 or more homers per year. 

Though he's taller than most catchers, Cartaya is agile and moves well behind the plate. He already shows advanced receiving ability for a teenager and should fit in well in an organization that prioritizes framing skills. He also has a strong arm and makes accurate throws.
In the just released updated 2023 top 30 LAD prospects, Cartaya's grade was updated to as follows.
MLB Pipeline – August 2023
Scouting grades: Hit: 45 | Power: 55 | Run: 35 | Arm: 60 | Field: 50 | Overall: 55
Cartaya is built to hit for power with a quick right-handed stroke and the strength and leverage in his 6-foot-3, 219-pound frame. He has good feel for launching balls in the air to his pull side, though his pop plays to all parts of the ballpark and he did a better job of using the opposite field in 2022. His offensive game has regressed in 2023, however, as Double-A pitchers have exploited his swing-and-miss tendencies and he has struggled to do damage against non-fastballs. 

While Cartaya has the ingredients to stand out on defense as well, that part of his game needs more polish. Though his arm strength earns well above-average grades from some scouts, he threw out just 19 percent of basestealers last season, and his receiving, framing and blocking are works in progress as well. Besides his physical ability, he also draws praise for his game-planning, communication and leadership skills, and his overall makeup. 
Diego's hit score decreased to below average, but his power numbers took a corresponding increase. He also has not developed as quickly defensively as scouts had hoped.  His overall FV also increased.  Why?  Power is perceived to be a "better" skill with more value than bat to ball skills.  He seems to fit right into the LAD skills values.
FanGraphs is another trusted site.  If you are unfamiliar with FanGraphs Scouting Grade tables, the first number in the skill box is their current value and the second number is their future value.  In their initial review  of Diego's skills:
Signed: July 2nd Period, 2018 from Venezuela (LAD)
| | | | | | | | | | |
| --- | --- | --- | --- | --- | --- | --- | --- | --- | --- |
| Age | 17.6 | Height | 6′ 2″ | Weight | 200 | Bat / Thr | R / R | FV | 40+ |
Tool Grades (Present/Future)
| | | | | | |
| --- | --- | --- | --- | --- | --- |
| Hit | Raw Power | Game Power | Run | Fielding | Throw |
| 25/50 | 45/55 | 20/45 | 40/30 | 40/55 | 60/60 |
This is a very physical teenager with some of the best present raw power in his signing class and a good chance to play a premium defensive position at catcher. Cartaya has a strong, physically mature build that inspires Salvador Perez comparisons. He has excellent lateral mobility despite his size, and his receiving was alright, but not great, when he caught pro-quality stuff at showcases.

He checks all the other beloved catcher skillset boxes: Cartaya is poised and engaged with his pitchers, he has a great arm, he looks built to meet the position's physical demands, and makes an attempt to frame pitches when he can. There's a chance he outgrows the position but he's deceptively athletic for his size, and we'd call it unlikely. There's not as much room for power projection here as there is for most others this age, but there's enough to profile at catcher. Cartaya's approach is geared for well-timed, pull-side gap contact. He's a potential regular who'll likely spend his first pro season in Arizona, as he's too physical for the DSL.
 FanGraphs comes right out and says how more physically mature Cartaya is.    He has been caught, not only by other MiLB catching prospects, but also by another LAD prospect, Dalton Rushing.
Here is the latest FanGraphs report card for Diego Cartaya.
FanGraphs – February 2023
Signed: July 2nd Period, 2018 from Venezuela (LAD)
| | | | | | | | | | |
| --- | --- | --- | --- | --- | --- | --- | --- | --- | --- |
| Age | 21.3 | Height | 6′ 3″ | Weight | 219 | Bat / Thr | R / R | FV | 55 |
Tool Grades (Present/Future)
| | | | | | |
| --- | --- | --- | --- | --- | --- |
| Hit | Raw Power | Game Power | Run | Fielding | Throw |
| 30/45 | 55/60 | 35/60 | 40/30 | 45/55 | 70 |
FanGraphs also gives Cartaya an improved overall FV.  It will be interesting to see if Cartaya remains a 55 FV and a top 100 prospect for FanGraphs come next pre-season.
I had always maintained that Diego Cartaya was going to be a good prospect, but I was not convinced that he was a future perennial All Star.  I thought that he was hyped because of his power potential, but early on he experienced too many injuries.  If he was experiencing back issues as a teenager, how well would he age?
Keibert Ruiz was always a more advance prospect at similar ages.  At the same age as Cartaya is now, Ruiz made his MLB debut.  In 2021 after the trade to the Nationals, Keibert became the regular backstop for Washington in his age 22 season.
What has changed.  Cartaya has gone away from his pull side attack.  Last year he experienced a 50.6% pull rate to 43.2 %.  But he also has a huge decrease in his BB rate, and an increase in his K rate.  His HR % has improved over 2022, but is much lower than 2021.

Is it the advanced pitching at AA?  He is 3.4 years younger than the average Texas League player.  But that should not be a problem if he were an elite prospect.  If his 2023 BABIP was more representative of his 2022 BABIP, Cartaya's BA would be closer to his career .242 BA.  He is undoubtedly hitting into some bad luck.   If Cartaya was hitting closer to his career BA, I do not believe there would be as much discussion.
Cartaya could still become a ML regular, maybe not with LAD.  I am still in favor of a Will Smith extension.  But Diego's trade value has decreased similar to his prospect status.
I think this could be a lost year with Diego's development.  Next year will be critical.  He will either resume being a prospect, or this year will not be an outlier but more typical of his expected productivity.  Does he merit the expected move to AAA or does he stay back at AA?  If he has to stay in AA, what does that do for Dalton Rushing.  Normally I would say he would need to repeat AA, but that could block Rushing and Yeiner Fernandez.
Block Rushing and Fernandez, and that blocks Thayron Liranzo and Jesus Galiz.
The offseason has a way of overcoming these blocks, so I am not overly concerned.
At 21, he is too young to give up on, and I am not about to do that.  He still has special talents.  But he no longer is the elite prospect he was deemed to be.  To prove that point, in Baseball America's latest top 100 update, Cartaya has dropped out of their top 100 altogether.  BTW, Emmet Sheehan is the new LAD #1 prospect per BA.  He escalated from the LAD #14 prospect on BA's pre-season list to #1 in the in-season update and #23 overall.
Diego has three weeks to put a positive finishing touch to this season.