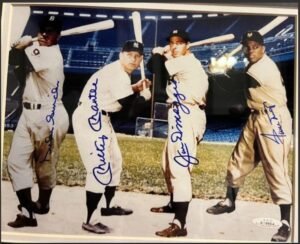 For a very brief shining moment in New York City, four of the greatest center fielders to ever play the game were playing for New York teams.
All of them had nicknames. One was "The Yankee Clipper", another was known as the "Commerce Comet". Then there was the "Duke of Flatbush", and "The Say-Hey Kid."
Three were young, and one was entering his last season. All would end up in the Hall of Fame. And between them they played on 19 World Series Championship Teams.
They hit a combined 1964 home runs. They patrolled center field with grace and speed, they set records, a couple will never be broken, and they exhibited some of the best baseball that has ever been seen.
They were as different as they could be. One was from a small town in Oklahoma, another from a small town in Alabama. One was from Compton, California, and the other was the son of Italian immigrants who made their home in a small town in Northern California, Martinez.
Joe DiMaggio, Mickey Mantle, Duke Snider and Willie Mays. I was privileged enough to see three of them play. I missed DiMaggio. But I have seen a lot of films and everything he did looked so effortless.
These four players are one of the reasons I am so old school when it comes to certain aspects of major league baseball.
Mays was a true 5-tool player. He was from a small town in Alabama. He would make it to the major leagues in 1951. Prior to that, he played for the Baltimore Black Barons when he was 17 in 1948. After a tough start to the season, Mays went down to Minneapolis, and when recalled, he had a nice rookie season with a .274/20/68 line, good enough to earn him Rookie of the Year honors.
Mantle, The Commerce Comet from Oklahoma, stepped into a legends spikes. DiMaggio was in his last season as a Yankee. He was 36 years old and slowing down. The long seasons were finally taking their toll. He would hit only .263 in 51. Only the second time in his 13 year career that he batted under .300.
Everyone always talks about the 5 years that Ted Williams missed because of two wars. DiMaggio missed three of his prime years in WWII. He went in when he was 27 years old, and came back when he was 31. If you take what he averaged over his career and multiply it three times, he would have had 102 more homers, (463), 429 more RBI's, (1966) and 621 more hits, (2835). Impressive.
Mantle joined the Yankees at the tender age of 19. With him came huge expectations. He was supposed to be the next Babe Ruth. In some ways, this prevented him from being just Mickey Mantle. And Mickey Mantle was a special talent.
Power from both sides of the plate, speed, the ability to run down pitchers' mistakes with grace and ease. He also was a 5-tool player. His rookie campaign was decent, he played in 96 games, but he really blossomed the next season in 1952.
He hit .311, made his first All-Star team and was third in the MVP voting. What is amazing is that he did this with a knee that hurt him constantly.
In game 2 of the 1951 World Series against the Giants, Mantle was playing right field. DiMaggio was in center. Willie Mays ripped a ball into right-center field and Mantle and DiMaggio raced after the ball. DiMaggio called for it and made the catch, Mantle, attempting to avoid Joe, tripped over an exposed drain pipe  and tore up his knee.
He would never play another pain free game in his career. But he was on his way. He would garner 3 MVP awards during his 18 year career with the Yankees. Numerous injuries kept him from playing more than he did. Subpar years the last four seasons he played, lowered his career average below .300. But he still slugged 536 homers and drove in 1509.
He also slugged 18 home runs in World Series play. All of the postseason stats are grouped together now. But Mantle still has the most World Series home run record.
Meanwhile, in Brooklyn, the Dodgers had their own fleet footed sure handed center fielder. Edwin Donald Snider, better known as Duke. The Compton California native made it to Brooklyn in 1947. He was 20 years old. His first couple of seasons, Snider struggled to make consistent contact and had little knowledge of the strike zone.
To fix this, Branch Rickey made his young outfielder stand in the batters box and call pitches without swinging a bat. This exercise would soon pay off as Duke became one of the more feared hitters in the National League.
And he was surrounded by talent. Snider usually  hit 3rd in the lineup behind Pee Wee Reese, and  whoever was hitting second. Jackie hit cleanup and was followed by Campy, Hodges and Furillo. He was the only left handed threat in the lineup.
Duke helped the Dodgers to 7 pennants. Six of those in Brooklyn. And they won only in 1955. Duke hit four homers in a World Series twice. Still the only player ever to do that. Duke also had five seasons, 1953-57 with 40 or more homers. The only Dodger hitter to ever accomplish that.
Duke finished with 407 homers. He still is the Dodger career leader with 389. Second is Gil Hodges with 361. Far more than LA leader Eric Karros who hit 270.
A couple of things kept Duke from getting closer to 500. One, the team moved out of friendly Ebbets Field to the cavernous LA Coliseum. And in 1958, Duke injured his elbow trying to throw a baseball out of the Coliseum. He also started having knee troubles that cut into his playing time.
Mays, DiMaggio and Mantle, were all elected to the Hall on their first ballot. Duke was voted in on his 11th try. Which kind of tells me that he was underappreciated by the writers of the time. He was clearly one of the best of his era. So there they are, the four New York outfielders who set records and thrilled fans for a long long time.