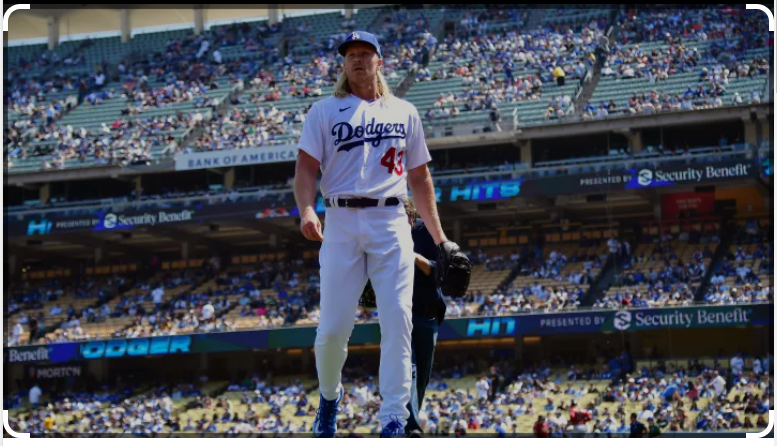 Some entertaining dialogue between Scott and Bluto on AF.  Contrary to some fans' belief, the Dodgers are NOT the richest most powerful team in MLB.  I am assuming the term powerful is referring to being able to pursue and sign any player they truly want.  I believe the two NY teams are richer, and thus more powerful than LAD.  There are 18 teams with better operating income than LAD.
I have tried to discuss before with Bluto, and I am not sure we accomplished anything.  As I have continuously written, there is a vast difference between the value of an organization and liquidity.  Because the Dodgers (Mark Walter and Todd Boehly, primary owners) are worth $4.8 billion (per Forbes March 23, 2023), does not mean they have the liquidity to pay for all of the organization expenses, including debt payments.
I plan on getting into more depth on this topic in the winter, but for now here are some of the pertinent numbers for LAD.
Value – $4.8 billion (#2)
Debt – 9% (17th most of 30 MLB teams)
Revenue – $581 million (#2)
Net Operating Income – $14 million (#19)
https://www.forbes.com/mlb-valuations/list/#tab:overall
I have no idea what expenditures the Dodgers incur to take their revenues from $581MM to a $14MM operating income.  Or NYY with revenues of $657MM (#1) to a $16MM operating income (#18).  Operating income is defined as earnings before interest, taxes, depreciation and amortization.  LAD debt service payments are paid from the $14MM.  What are their debt service payments?  Need to see the financial statements.
Much of the revenues generated by NYY and LAD go into the revenue sharing pool, diminishing a large portion of their expendable revenue.
The Dodgers have 9% debt they have to service.  NYY has $0.  Boston, LAA, and Toronto have $0 debt as well.  SFG generates $421MM revenue and $75MM operating income, with 4% debt.
The richest and most powerful team in MLB has exactly 3 contracts in excess of 2 years:
Mookie Betts – 12 years – $365MM (2021-2032)
Freddie Freeman – 6 years – $162MM (2022-2027)
Chris Taylor – 4 years – $60MM (2022-2025)
Then we need to consider:
Mookie has $115MM deferred to 2033-2044
Freddie has $57MM deferred to 2028-2040
Those deferrals save about $19MM in current year salary.  Without those deferrals, LAD would be operating at a loss.  Why would the richest and most powerful team in MLB only have three contracts in excess of 2 years with 2 of them with significant deferred contract payments.
Sure Mark Walter and Todd Boehly are worth billions.  But they also purchased 27% of the Lakers in 2021, and are two of the primary owners of the Chelsea Football Club they purchased in May 2022 for $5.5BB.  Boehly is the primary chief executive of Chelsea.  They are investing heavily in that franchise.  The Dodgers may not be their primary interest, at least not for Boehly.
Scott wrote:
So they're telling us that the Dodgers, the richest team with most resources in MLB were unable to find reliable healthy starting pitchers anywhere? In the world? I find that hard to believe.
I do not agree that the team is the richest with the most resources in MLB.  There is not a single metric that would indicate that the Dodgers are the richest or have the most resources.  Considerable?  Yes.  Most?  No.
The Dodgers went into the 2023 season wanting to be able to drop below the CBT threshold.  Not knowing the final suspension outcome for Trevor Bauer, the Dodgers refrained from high cost FA.  The news of the suspension was reported on December 22, 2022.
To the best of my recollection, there were 19 starting pitchers considered in the top 50 FA.  Of those 19, only 5 pitchers received 1 year contracts, and two of them were made by LAD (Noah Syndergaard and Clayton Kershaw).  For the past 2 years, this appeared to be the maximum contract length the Dodgers wanted to offer pitchers.
Only three pitchers were available after the suspension was reported:
Nathan Eovaldi – 3 years – signed 12-27-2022
Corey Kluber – 1 year – signed 12-28-2022
Michael Wacha – 1 year – signed 02-14-2023
For those that believe that the AF missed the boat on elite pitchers, maybe he should have signed Carlos Rodón, who eventually signed for 6 years and $162MM, or Jacob de Grom for 5 years and $185MM, or Justin Verlander at 2 years and $86.67MM with a $35MM vesting option for a 3rd year.  All three have had TJ surgery, so not all that healthy.  Two of the three were not healthy for most of the year (Rodón and de Grom).
Kodai Senga – 5 years – $75MM
Chris Bassitt – 3 years – $63MM – TJ surgery
Jameson Taillon – 4 years – $68MM – TJ surgery
Taijuan Walker – 4 years – $72MM – TJ surgery
Sean Manaea – 2 years – $25MM – Shoulder surgery
Andrew Heaney – 2 years – $25MM + incentives – TJ surgery
Nathan Eovaldi – 3 years – $34MM – 2 TJ surgeries
José Quintana – 2 years – $26MM – multiple injuries
Zach Eflin – 3 years – $40MM – Right patellar tendon surgery
Tyler Anderson – 3 years – $39MM – multiple injuries
Ross Stripling – 3 years – $25MM
Michael Wacha – 1 year – $7.5MM – Option clauses that will could make the contract either 3 years at $39.5MM (club options) or 4 years at $26MM (player options if club declines club options). – Multiple injuries including significant shoulder injuries
Corey Kluber – 1 year – $10MM – Multiple injuries
Mike Clevinger – 1 year – $8MM – 2 TJ surgeries
All but Eovaldi, Wacha, and Kluber were gone by the time the Bauer suspension news was reported.  MLB is a business, and not a hobby.  No team is going to make decisions on multi year 8 or 9 figure contracts without knowing the suspension terms for a potential $32 MM pitcher, who the Dodgers did not want on their roster.  As it turned out, Bauer was to be paid $22.5 million, basically ending any hopes of getting under the threshold.  But there were no difference making pitchers or players still available.
Also which of those pitchers were free from previous injuries?  Many (if not most) had at least one TJ surgery, with multiple pitchers having two.  Others had significant shoulder injuries.  What reliable HEALTHY SP was available during FA?  Name one.
The one pitcher that was traded that could have been a difference maker was the Marlins' Pablo López.  Of course the Dodgers did not have a Luis Arraez to consummate a trade for a top shelf pitcher.
Then at the deadline:
There were ten starting pitchers (11 if you count Ryan Yarbrough – I am not).  I remember discussions that the Dodgers should have got Jack Flaherty or Lucas Giolito.  I was on the Giolito train, and that train would have been derailed.  Then when Michael Lorenzen pitched a no-hitter for Philadelphia many came out of the wood work and said that the Dodgers should have traded for Lorenzen.  In the end, that did not work out too well.
I am purposely excluding Max Scherzer who the Dodgers would never have traded for, and Justin Verlander, who made it clear that he only wanted to pitch for NYM or Houston, and would have vetoed any trade to any other team.
RHSP Michael Lorenzen (Philadelphia) – After 7 starts, Lorenzen was moved to bullpen (4 relief).  He pitched 47.1 IP and compiled a 5.51 ERA.
RHSP Jack Flaherty (Baltimore) – After 7 starts, Flaherty was moved to bullpen (2 relief).  He had 34.2 IP and compiled a 6.75 ERA.
RHSP Lucas Giolito – 6 starts for LAA – 32.2 IP, 6.89 ERA; 6 starts for Cleveland – 30.2 IP, 7.04 ERA
RHSP Aaron Civale (Tampa Bay) – 10 GS – 45.1 IP, 5.36 ERA
LHSP Rich Hill (San Diego) – 10 games, 5 starts, 27.1 IP, 8.23 ERA
LHSP Bailey Falter (Pittsburgh) – 10 games, 7 starts, 40.1 IP, 5.58 ERA
Lance Lynn (LAD) – 11 GS – 64.0 IP, 4.36 ERA
Jordan Montgomery (Texas) – 11 GS – 67.2 IP, 2.79 ERA
I also wanted to add Eduardo Rodriguez.  After the trade deadline, Rodriguez had 11 GS, 64.1 IP, 3.78 ERA
Of the starting pitchers who were traded that LAD had a chance with, Lance Lynn had 2nd best ERA, and 2nd most IP.  Rodriguez would have been ideal, but we know what happened.  I am convinced that the Dodgers wanted Rodriguez more than Montgomery, maybe because of the opt out that AF/BG might have been able to work around and extend.  But by the time the Rodriguez deal went south, Montgomery was already dealt to Texas.
No, neither Dylan Cease nor Mitch Keller were going to get traded.  CWS and Pittsburgh said they would listen (why not), but they were nowhere close to moving either pitcher.
Since we have no idea as to who the Dodgers did try to acquire, you cannot convince me that they missed out on a difference making pitcher at the deadline, especially when considering those pitchers that were actually moved.
Scott continued:
Look at the DBacks. They have at least two healthy and reliable starting pitchers and don't have half the money or resources the Dodgers do. What's the excuse?
Zac Gallen, a 3rd round pick out of University of North Carolina in 2016, was traded to Arizona for Jazz Chisholm Jr.  at the trade deadline during the 2019 season.  Who do the Dodgers have that is comparable to Chisholm in their system?  This was the second time Zac was traded before he reached MLB.  He was never considered a star.  He was the #14 top Miami prospect in 2018, and regressed to be #19 in 2019.
Merrill Kelly – 8th round pick by Tampa Bay  (251st overall) in 2010.  4 undistinguished years in the KBO.  Signed with his hometown team Arizona before 2019 at 30 years old.  Was undistinguished until he was 33 in 2022.
The Dodgers have that level of pitcher already in their system, but just not ready.
This is why I have respect for Ned Colletti. He may not have been the analytical genius Friedman is, but when the Dodgers needed something he would go out and get it, (Manny, Puig etc.), and was given half the resources Friedman was given.

Dodgers have to do better. Pitching wins championships.
I am not going to contradict your affinity for Colletti.  I thought he did well.  But Colletti's teams had the best pitching in MLB in 2009 and 2nd best in 2008.  His Dodgers got beat by Philadelphia in the NLCS with not as good pitching.  No Colletti team got to the WS.  He did trade for Manny in 2008.  He also orchestrated the Nick Punto trade with Boston (2012).  Neither deal resulted in a WS appearance.
No Dodger team reached the WS since 1988 until AF assumed control.  Since 2015, three LAD teams have reached the WS.  Probably not this year, but the offense is just as much to blame as is the SP.
Pitching DOES NOT NECESSARILY WIN CHAMPIONSHIPS. If pitching does win championships, in addition to 2020, the Dodgers should have walked away with the WS last year, 2021, and 2019, and perhaps even 2018 and 2017.
I have thoughts as to what has happened in those years, but I will hold off until the Dodgers are eliminated.
I do not disagree that this year the Dodgers pitching was substandard.  That is not arguable.  But I do not blame AF.  In addition to the Bauer mess, they were trying to hold off on acquiring additional pitching until the "kids" were ready.  No reason to block or trade potentially top pitching prospects.  How many times did we read to let the kids play?  Well they did, and they are just not quite ready.  And contrary to what some may believe, I cannot see a pitcher they may have been interested in that they missed out on.
If anyone disagrees, advise as to which pitcher the Dodgers should have signed to a FA contract or traded for at the deadline.
For those who blame AF, I doubt there is anything I can write that will assuage those thoughts.  Is AF perfect?  Absolutely not.  But he could be
The only current GM or PBO that I recall that has more WS championships or even appearances are Brian Cashman and Dave Dombrowski.  NYY fans want to run Cashman out of NY.