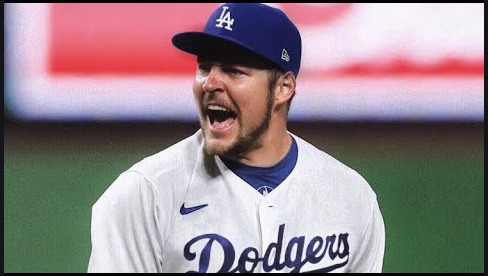 Unless you have been hibernating in a cave, you now know that Trevor Bauer's 324 game suspension has been reduced by 130 games to 194.  The league office said in a prepared statement:
"Today, the neutral arbitrator selected by MLB and the MLBPA affirmed that Trevor Bauer violated Major League Baseball's Joint Domestic Violence, Sexual Assault and Child Abuse Policy."
Thus, while Bauer insisted that he was not guilty of any sexual abuse, and that the entire suspension should be lifted, the arbitration panel upheld the Commissioner's decision to suspend Bauer, just not for the length of time he was suspended for.  What did the panel learn?
Bauer served 144 games of that suspension during the 2022 season, beginning April 29, the date Commissioner Rob Manfred initially suspended him.
Bauer will be reinstated immediately, and the Dodgers will now have 14 days to decide whether to place him back onto the roster or simply release him. The Dodgers are not expected to release him. It is also possible that Trevor Bauer will bet on himself and opt out and receive a $15MM buyout.  Also not so likely, but still possible.
The decision was largely made by the neutral arbitrator, Martin Scheinman, who was approved by both the Players Association and the league. The other two members of the three-member panel were an MLB selected appointee and one selected by the MLBPA.
While Bauer is immediately reinstated and able to pitch immediately, he will not be paid for the first 50 games, through May 23, 2023.  He will earn his pay equitably over 112 games.
Additionally, the arbitrator will dock his salary for the first 50 games or 30.8642% of his salary.  In actual dollars, his salary will be reduced by $9,876,544 to $22,123,456.  That is based on his actual salary of $32MM.  For AAV purposes, Dodgers payroll will be reduced by $10,493,828, for a Bauer hit of $21,506,172.  Those are my calculations based upon the information I have to work with.  Based upon Cot's calculations, the LAD AAV payroll is $199,166,667 before JDM and Bauer.  JDM and Bauer will add $31,506,172.  Lo and behold, the Dodgers 2023 AAV is $230,672,839, or miraculously a little more than $2K south of the CBT threshold. Imagine that. Somehow, someway, LAD execs had to know what the ruling was going to be.
I would not expect any more additions to the roster unless there is a roster reduction for the same $$$$.
While I am sure that the Dodgers have already been working on whatever they plan to do with Bauer, it is possible that we will not learn what those plans are before January 6.  There will then be approximately 5 weeks between the deadline for the LAD decision and ST.  Will Bauer be at Camelback (in a Dodgers uniform) when pitchers and catchers report on February 14?  I find it hard to believe that the Dodgers would trade Bauer to a contending team, and there is virtually no reason for a non-contending team to acquire Bauer.  So I fully expect Bauer to report to Camelback (as a Dodger) when pitchers and catchers report.
In a further statement by the League office:
"After an exhaustive review of the available evidence the neutral arbitrator upheld an unpaid suspension of 194 games.  As part of the decision, the arbitrator reinstated Mr. Bauer effectively immediately, with a loss of pay covering the 144 games he was suspended during the 2022 season.  In addition, the arbitrator docked Bauer's salary for the first 50 games of the 2023 season (i.e., the period covering March 30, 2023 to May 23, 2023).  While we believe a longer suspension was warranted, MLB will abide by the neutral arbitrator's decision, which upholds baseball's longest-ever active player suspension for sexual assault or domestic violence.

We understand this process was difficult for the witnesses involved and we thank them for their participation.  Due to the collectively bargained confidentiality provisions of the joint program, we are unable to provide further details at this time."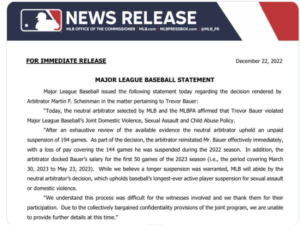 The Dodgers also put out a statement:
With Trevor Bauer reinstated from restricted list, Dodgers have 14 days to activate or release him. https://t.co/4WELMwsUyh

— Bill Shaikin (@BillShaikin) December 23, 2022
Then this from the Bauer camp:
Statement from Trevor Bauer's reps: "While we are pleased that Mr. Bauer has been reinstated immediately, we disagree that any discipline should have been imposed. That said, Mr. Bauer looks forward to his return to the field, where his goal remains to help his team win a WS."

— Mike DiGiovanna (@MikeDiGiovanna) December 23, 2022
Twitter isn't shy with their comments from both sides of Bauer situation.  Half want him to go directly into the HOF, while the other half want him burned at the stake.  The Dodgers will do whatever is best for the team as a whole.  I would not be surprised at all if the LAD veterans were polled as to what they think should be done.  All at the Happiest Time of the Year!