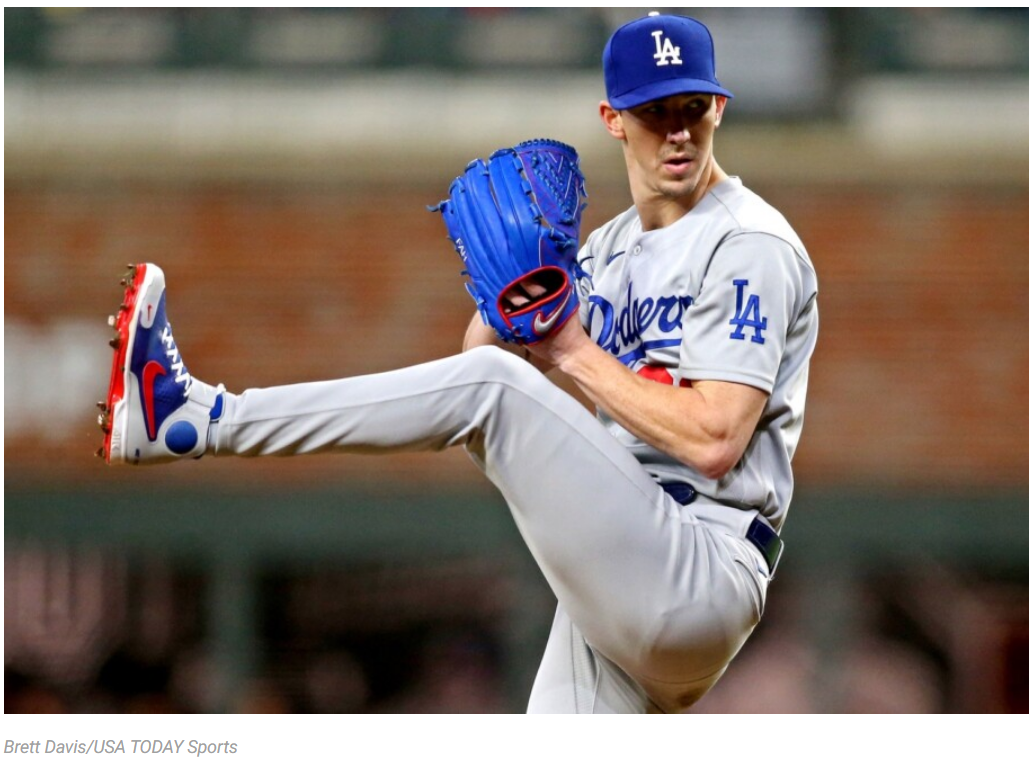 I will not speculate how long there may have been discomfort, but in Friday's game, Walker Buehler was lifted after 4.0 IP and 70 pitches thrown.  There were some positive signs in this outing from Buehler.  He actually got 11 whiffs on his pitches.  The negative side of that equation was that only three were on his 4-seam fastball (3 out of 35).  His big whiff pitch was his slider.  He had 4 whiffs out of 10 sliders thrown.  He also had 3 whiffs on 13 cutters.
Buehler had his strikeout totals back up on Friday; 6 in 4.0 innings.  He had five K's in a row before he left a curve on the inside part of the plate thigh high to Darin Ruf…just where the big guy likes it.  And he did not miss it.  3-1 Giants.  Buehler looked very uncomfortable on the mound in the 4th, and the Giants announcers were even commenting that something was not right with him.  He did not come out for the 5th, and the speculation began.
In addition to the injury discomfort, Buehler was very frustrated with plate umpire Chris Conroy.  To say Conroy was bad would be kind.  Again, even the Giants announcers said that Buehler had every right to be frustrated and perturbed about the calls.  But they were also quick to add that he had to let it go.  That seems to be difficult for Buehler.
The Dodgers drew first blood in the second when Justin Turner singled and came home on a long double by Chris Taylor.  That piano looked like it was getting heavy approaching 3rd.  It had to be breaking his back as he slid home, but he scored just the same.
The Giants struck back in a big way in their half of the 2nd.  Joc Pederson lined a 3-2 97.4MPH fastball into CF for a single. Joc stole 2B without a throw.  He stole that one on Buehler.  Evan Longoria hit a 95.8 MPH 4-seam fastball bullet down the line for a double that scored Joc.  Brandon Crawford followed with a run scoring single on a hanging curve.
In the top of the 5th, Gavin Lux hit a 412' HR to CF, his 2nd of the year.
After 4.5 innings it is a close game 3-2.  But the problem lately is that the Dodgers have to count on their bullpen.  Justin Bruihl was the first victim.  He surrendered 4 runs on three hits and one intentional walk.  The key blow was a base loaded single under the glove of Freddie Freeman by Joc Pederson.  With runners on 2nd and 3rd and 2 out, Bruihl was on the brink of pitching out of a jam.  The decision was to walk Wilmer Flores and have the LHP Bruihl face the left Pederson.  On a 2-0 pitch Joc singled to plate a pair.  Darin Ruf singled to score Flores and the Giants had a 6-2 lead.
Jakob Junis was not dominating, but he was a grinder, and the Dodgers were not putting up much of a fight.  But then Junis had to leave the game with a hamstring strain.  The Giants bullpen was a little better than the Dodgers.
Phil Bickford pitched a scoreless 6th, and came back out in the 7th.  He got the first out, and the decision was to bring in David Price who struck out Mike Yastrzemski and got Wilmer Flores to fly out.  However, in the 8th, the barrage on the LAD pen continued with a Darin Ruf HR off Price.
So Buehler gives up 3 in 4 innings and the bullpen gives up 4 in 4 innings.
Clayton Kershaw will be activated on Saturday and another reliever will be sent down.
As I am writing this, there is no word on how serious of an injury Buehler has.  There is no word on how long the injury was present, and I am not sure we will ever hear.
Joe Musgrove is putting on a brilliant FA year as he improved to 7-0 with a 1.50 ERA as the Padres shut out the Rockies and have moved to within one of the Dodgers.
Clayton Kershaw vs LHP Sam Long on Saturday which is the Fox Game of the Week,