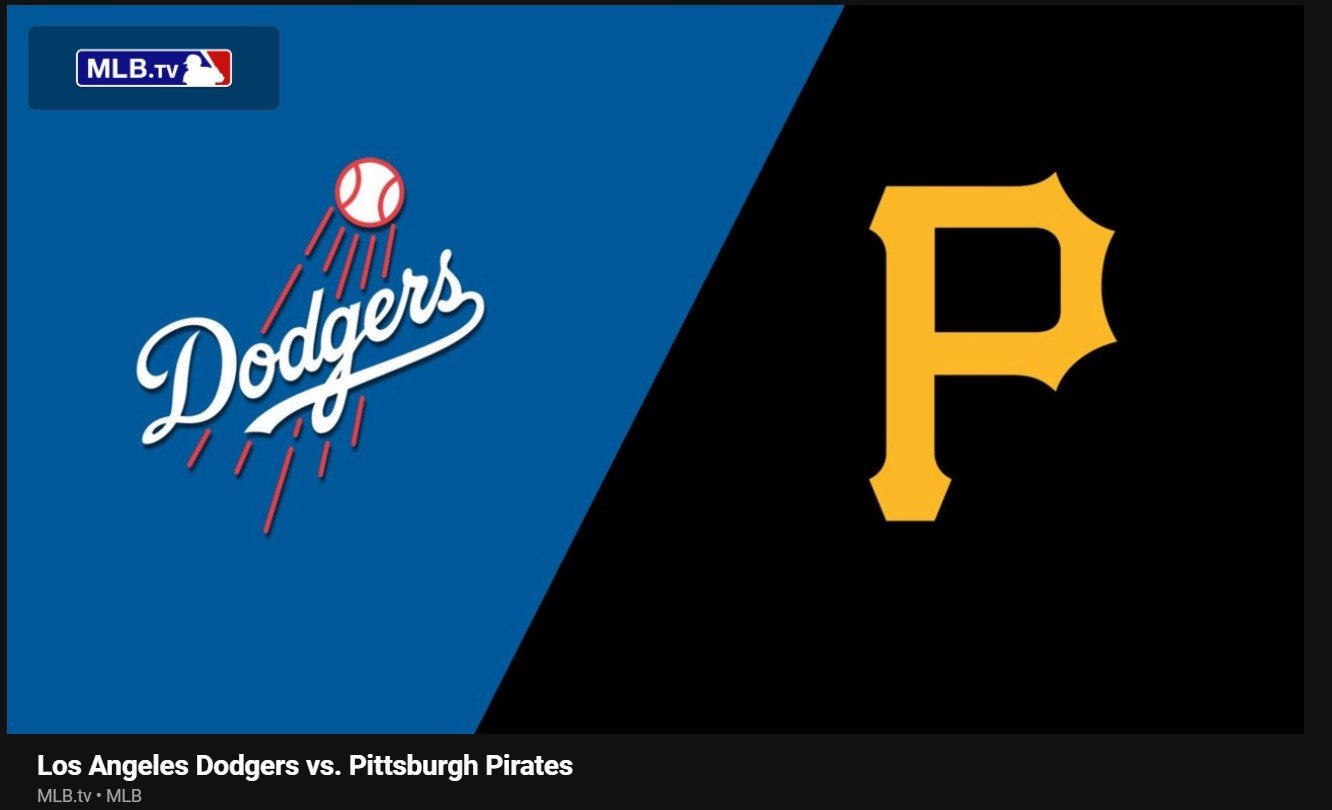 After Tuesday's come from behind game, I was ready to begin celebrating an actual LAD winning streak.  What we saw next were two very embarrassing performances from our beloved Dodgers.
It is not that the Dodgers coughed it up in this series. They were beat in every facet of the game…starting pitching, relief pitching, offense, defense, RUNNING.  The Dodgers were one swing from being swept.  The much maligned Chris Taylor had a 3-hit game in Game 1, including a game winning 3-run HR.
I acknowledge that the Dodgers were without Muncy, Smith, and JDM, but who believes that the Dodgers are a better team than the Pirates…RIGHT NOW.
Actually the defense for the Dodgers was pretty good in the series.  Defensive gems from outfielders David Peralta, Jason Heyward, and Trayce Thompson, with a couple of nice SS grabs/throws by CT3 on Thursday were the series highlights.  The diving catch by Trayce Thompson in Game 3 along the LF foul line was outstanding.  Peralta's layout in the first inning of Game 1 probably saved that game.  If he does not make that catch, two runs will score, with a runner on 2nd or 3rd, and the game gets out of hand in a hurry.  But Game 1 was supposed to be the turning point in the season.  And maybe it was, just not the correct turn for LAD.
The Dodgers best starting pitcher in the series, Tony Gonsolin, lasted 3.1 IP.  Noah Syndergaard has not pitched well since his first start this season.  Julio Urías had his third consecutive stinker.
The Dodgers have one starting pitcher with an ERA south of 3.  The Boston Braves had a pair of pitchers that were dominant, while the other starters were, well, not as good.  There was a saying heard often with those Boston pitchers…Spahn and Sain, and pray for rain.  For LAD maybe it should be Kershaw and May, and pray for a delay.
As indicated, Julio Urías has had three consecutive poor starts.  On April 10, 2023, after 3 starts, Urías accumulated 18.0 IP, with an ERA of 1.50, a WHIP of 0.83, 20 K, 2 BB, and 1 HR.  He was looking very much like an Ace.
Here is what he has done it his last 3 starts:
On April 27, Urías now has a 2023 ERA of 4.41 and a 1.29 WHIP.  Urías has surrendered back to back HR's in all three games.  Is he hurt?  Have offenses learned how to exploit his weaknesses?  Why he cannot figure out how to come out for the start of the game and pitch well in the first inning, I just cannot figure it out.  At 26, an age where he should be getting stronger, his four-seamer fastball has dropped velo every year since 2019.  This is Urías' contract year, and he is leaving millions on the table with the way he is pitching in 2023.
Hopefully, the pitching gurus can fix what is ailing him, if it is mechanics.
Victor Gonzalez looks like he is getting closer to where he was at in 2020 in two games.  But he is going to need to pitch more before he can be considered fully back.
Evan Phillips pitched like he did last year in his one game.
The Dodgers had a LHRP in their system last year that many were high on.  I wonder what happened to José Hernández (now 25)?  Oh yeah, he is in the Pittsburgh bullpen pitching some extraordinary relief work.
8 G, 9.2 IP, 2 H, 1 R, 0.93 ERA, 0.93 WHIP.  2 games against the Dodgers, 1.2 IP, 0 baserunners, 3 K.  José Hernández was selected by Pittsburgh in the Rule 5 draft last December.  He sure would look good in the LAD bullpen.
Pitching was not the sole problem for the poor performance in this 3-game series.
There has been a lot of discussion as to how Chris Taylor, Jason Heyward, David Peralta, and Trayce Thompson have been holes in the roster.  That is probably true, but not one of those should be a regular in the lineup.  However where is the criticism towards Mookie Betts.  The LAD $365MM player was 0-13 in the series, and his 2023 slash line now reads:  .233/.349/.411/.760.  His HR % in 2022 was 5.5%, but down to 2.9% in 2023.  His strikeout rate was already elevated in 2022, but has been elevated even more from 16.3% to 20.6%.
Cannot score a lot of runs, when the leadoff man gets on base one time in 14 PA, and that was via a walk.  Probably not coincidentally, Mookie did score his sole run in the series after that BB.
Here is a table of the Pirates and Dodgers offense in the series, with individual LAD offensive stats.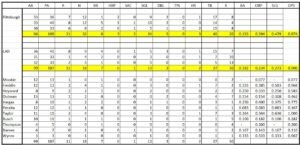 You will note that the three rookies in this series were 5-34 (2 doubles and 3 singles), 3 RBI, with 12 K.  This is why teams that are expected to contend do not start three rookies.  Michael Busch will be a good MLB hitter, but he seems over his head right now.  Do the Dodgers parachute Busch over OKC on their return trip to LA?  Michael needs to play every day.
It sure looks like Pittsburgh has found James Outman's kryptonite, and exploited it.  Outman was 0-8 in his last two games with 6 K.  He is very susceptible to high fastballs out of the zone.  Pittsburgh will not be the last team to exploit this weakness.  Now it will be up to James to adjust.
The Dodgers seem committed to keep throwing Miguel Vargas out there (as they should IMO).  He started slowly in AAA, but when he got comfortable, he was a major hitter.  I think the same trend will continue at the MLB level (my opinion).
We are also seeing first hand what teams are going to do to the Dodgers.  They are going to bunt, primarily on the 3B side, and they will run, run, and run even more.  I do not think it is a coincidence that Pittsburgh, Arizona, and Chicago Cubs have padded their SB against the Dodgers.  Pittsburgh, Arizona, and Chicago are the top 3 stolen base leaders in the NL.  The Dodgers were supposed to clean up on those three teams, and yet they are now 8-10 against them.
The Cardinals have been struggling even more than the Dodgers, and they will be facing off against each other beginning on Friday.
Arizona – 3-5
Colorado – 2-0
San Francisco – 2-1
Cubs – 4-3
Mets – 1-2
Pittsburgh – 1-2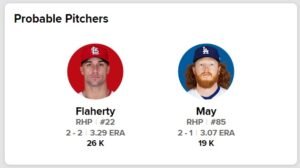 April 27, 2023 MiLB Summary Report
OKC Dodgers 5 – Sacramento River Cats (Giants) 2 – Game 1
OKC and the River Cats had two seven innings games.  In the first game, Gavin Stone was penciled in for the start, and he delivered.  It wasn't the domination that we witnessed last year (or Spring Training), but it was very good nonetheless.
Stone walked Heliot Ramos, the first batter of the game, and he eventually came around to score on a 2-out single by Gary Sanchez for a Cat 1-0 lead. OKC scored 5 runs over their first three innings for a 5-1 lead they never relinquished.
Stone pitched 5.0 innings, and got his pitch count up to 80.  The first inning run was the only run he allowed on 3 hits, 2 BB, and 8 K.  That is back to back excellent starts, and hopefully the early season blues have gone away.  The way Syndergaard is pitching, it may not be long before Stone gets a call.  There is also the precarious health of the other starters.
Brayan Hudson and Nick Robertson finished the game with Robertson earning his 1st save.
Offensively, Yonny Hernandez was 3-4 with 2 runs and 1 RBI, including a triple (1).  Devin Mann was 2-3 with a pair of doubles (13), a run RBI.  Justin Yurchak was 1-1 with a HBP,  He triple (1) for a RBI, and scored a run.
OKC Dodgers 1 – Sacramento River Cats (Giants) 0 – Game 2
As well as Gavin Stone pitched in the first game, in Game 2 William Cuevas pitched even better.  Cuevas pitched 5.0 scoreless innings, allowing only a Heliot Ramos single and a Matt Beaty HBP.  He struck out 5 Cats.
Tayler Scott and Wander Suero pitched a scoreless/hitless inning to finish.  Scott allowed 2 BB and registered 1 K, while Suero issued 1 BB.
Three OKC pitchers completed a 7-inning 1-hit shutout.
There was no margin for error in this one.  OKC had only 3 hits of their own, and scored 1 run.  Steven Duggar led off the 2nd with a BB, stole 2nd, and came home on Ryan Ward's double (6).
Yonny Hernandez hit his 2nd triple and Jahmai Jones singled to account for the other hits.
OKC is now 18-6 on the year.  They have opened up a 2.5 game lead in the PCL East Division over Round Rock (Texas).
Arkansas Travelers (Seattle) 3 – Tulsa Drillers 1
This was a featured pitching duel between Nick Nastrini against Arkansas' Emerson Hancock.  Hancock got the best of Nastrini in this one.
Nastrini allowed a single, SB, and run scoring single in the 2nd to give Arkansas a 1-0 lead.  In the 4th, a single and pair of doubles plated two more for a 3-0 lead.  Nastrini complete 4.0 IP, allowing 3 runs on 5 hits, no walks.  He did have 5 Ks on his 57 pitches (43 strikes).  Known for being wild, it appears that Nastrini had a little too much strike zone in this one.
Kyle Hurt (2.2 IP) and Braydon Fisher (1.1 IP).  Hurt allowed a hit and BB, but did register 7 Ks.  Fisher was perfect in his outing with 1 K.
For Arkansas , Hancock completed 5.0 shutout innings.  He allowed 2 hits and 2 BB, with 8 K.
Tulsa finally got on the board in the 9th.  Imanol Vargas hit a one-out double and came home on José Ramos' single.  Ramos was the only Tulsa batter with 2 hits.
Great Lakes Loons 6 – Fort Wayne TinCaps (San Diego) 4 
Justin Wrobleski was very good for the his 3.0 IP.  He allowed a walk and single, with one being erased on a pickoff.  In the 4th, Wrobleski surrendered a 1 out double, and the 2 out walk putting runners on the corners.  After that the roof caved in on two pitches.  A 2-run double followed by a 2-run HR.  The TinCaps had a 4-0 lead.
The relief pitching was brilliant for GL.  5.0 hitless shutout innings.  Julian Smith finished the 4th for Wrobleski and got the first two outs in the 5th. He pitched 1.0 inning with 2 Ks.  Orlando Ortiz-Mayr was excellent for 3.1 IP. He allowed the only baserunner for the relief crew on a walk with 4 K.  Jake Pilarski finished the game for his 6th save.
Great Lakes began the climb in the 5th.  Yeiner Fernandez began the inning with a single, and came home on Taylor Young's 1st Great Lakes HR.  In the 6th, Austin Gauthier doubled and reached 3rd on Dalton Rushing's single.  Gauthier scored on a WP.
Now within 1 run in the 8th, Gauthier opened the inning with a single.  After Rushing was HBP, Alex Freeland hit a 2 run double for the lead.  Freeland eventually scored on another WP, and the comeback victory was complete.
Rancho Cucamonga Quakes 3 – Inland Empire 66ers (LAA) 2
Jerming Rosario pitched well out of a lot of traffic, but only allowed 1 run in the 3rd after a single, WP, and single.  He got through 4.0 innings, giving up 7 hits, and 1 walk.  He did have 7 Ks.  Rosario is now up to 71 pitches.
The Quakes scored a run in the 1st on a Jose Izarra HR (1), and in the 2nd on a Chris Newell HE (5).  The 2-1 RC lead continued into the 8th.  Izarra doubled (6) and came home on a Nick Biddison single and a 3-1 lead.
Gabe Emmett got the first two outs in the 9th, but then allowed 3 successive singles, 2 on very soft line drives, for 1 run.  There were runners on 1st and 2nd in a 1-run lead after three singles, and Emmett was allowed to finish.  He induced Ben Gobbel to pop up on a 1-0 pitch for his 1st save.
Jose Izarra was the hitting star for RC going 2-4 with a HR (1) and double (6).  Chris Newell's HR (5), and Jorge Puerta double (2) were the only other XBH.
Box Score
https://www.milb.com/gameday/quakes-vs-66ers/2023/04/26/724920#game_state=final,lock_state=final,game_tab=box,game=724920