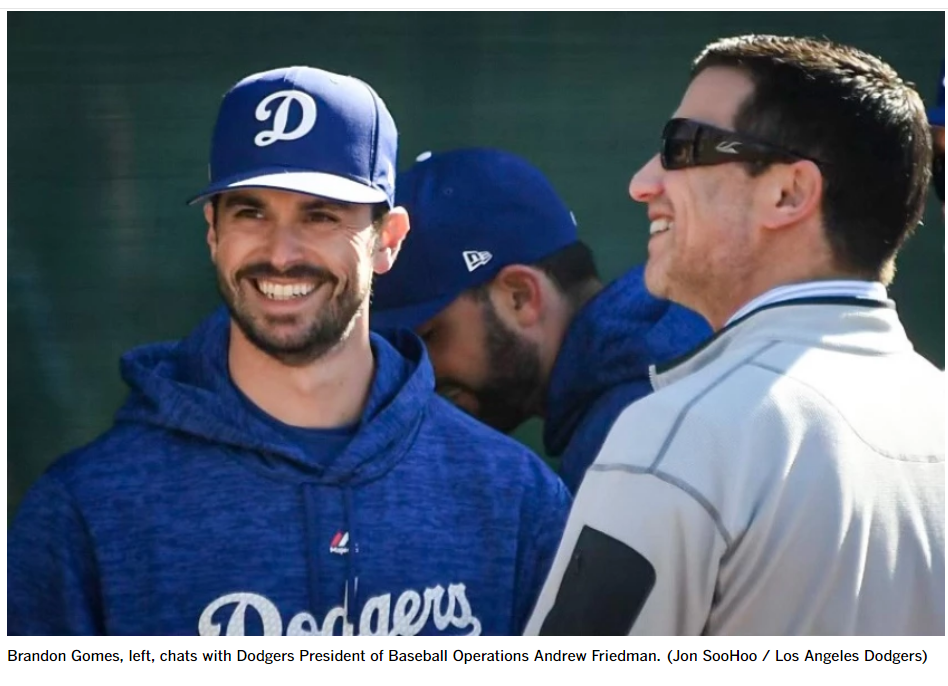 Bluto wrote:
Jeff has noted that many teams will be looking for pitching this trade season. With Kershaw, May and Heaney coming back and with this aforementioned problem with Mitch White, (Not to mention Grove and Jackson in AAAA)

I kinda have to think the Dodgers will be in a position to almost have to trade pitching for players or prospects.
I was going to respond to that, but then again, it is a good topic for its own post.  So, thank you Bluto.
When Kershaw and Heaney return to the rotation, that will give the Dodgers 7 starting pitchers if you include Mitch White, and I choose to.  He has earned that, certainly as much as has Andrew Heaney.  This does not include Danny Duffy who could be back by the All Star break.
Ryan Pepiot would make several MLB rotations this year, and they would work through his command issues. The Dodgers have the luxury of allowing him to develop his starter status in AAA.
Bobby Miller seems to be getting better with his command this year. Now he has to prove he can get through 6.0 and 7.0 innings in a AA environment.  But the Dodgers development team are more concerned with keeping the pitch count down.  I disagreed with others who thought that Miller would be in the LAD rotation by the All Star break, but that did not mean that I thought he wasn't a top prospect.  I did then and still do.  He just is not ready.  Gavin Stone has a better chance to make the jump than does Miller.
Gavin Stone has been better than advertised and looks to be the steal of the 2020 draft for the Dodgers.  It is one thing to dominate in a pitchers A+ league, but then another to dominate in AA.  And there is no other way to describe his AA season thus far.  Sheer dominance.  How much longer before he gets pushed even further into AAA.
That would seem to indicate that Pepiot, Miller, and Stone would be untouchable RHP at the trade deadline.  That would leave Mitch White, Andre Jackson, Landon Knack, Clayton Beeter, and Michael Grove as RHP that are ML ready or near ML ready that teams may be interested in.  There are dozens of lower level pitching prospects that teams may be interested, and the Dodgers have so many in that 15-45 prospect level that they can deal from strength.
I am loath to include White in the list, but in order to get value, one must trade value.  But my hesitancy is that I do not believe there will be a pitcher at the top of the rotation available at the deadline that would necessitate the inclusion of Mitch White.  And certainly not a one-year rental.  So would the Dodgers include White in a trade for Frankie Montas or Luis Castillo?   You would be trading 5.5 years of control for 1.5 years for either pitcher.
Martín Pérez is a potential rental, and maybe one of Jackson, Knack, Beeter or Grove and a lottery pick would be enough to get him.  But I would not trade Mitch White straight up for Martín Pérez.
Now if Miami considers trading Pablo Lopez, I would have to consider Mitch White as a key part of the package.  Edwin Rios going home?  Bluto, you have an assignment.  What would a White/Rios/Knack for Pablo Lopez deal look like.  What about switching Knack for Jacob Amaya?
However, with the number of starting pitchers the Dodgers currently have in the loop, and an Ace (Max Scherzer level) seemingly not being available, the Dodgers could (probably should) hold onto White and stick him in the bullpen for the rest of the year.  Let him percolate as did Tony Gonsolin.  This year's surplus is going to be dissipated next year with Kershaw, Heaney, and Tyler Anderson all FA, and White can be as good as anybody's #4 or #5.
The bullpen needs help.  The Dodgers did not listen to me when I suggested that they should pursue Ryan Pressly and Taylor Rogers.  😉😉  I have not been looking at the potential RP rentals this year as I was hoping that the bullpen would be a strength.  Over the last few weeks, it has been anything but.  With White and probably one of Heaney/Anderson headed to the bullpen, the multi inning reliever bucket is full.  It is going to be crowded when Duffy joins the team.
But the late inning and/or high leverage innings are another story.  Blake Treinen is not due back until at least the All Star break.  Victor Gonzalez is probably done for the year.  Craig Kimbrel is currently on paternity leave, but will be back soon.  But which Craig Kimbrel will the Dodgers get?  I do believe that with his plus fastball and plus plus change that Ryan Pepiot can be an option.  Dustin May could be an option at the end of the year.
But those are possibilities.  What about that one, two, three person bullpen that you can absolutely count on? I do believe that Knack, Beeter, Grove, and Jackson (and others) can be useful in acquiring a top reliever (or two).  I will start to look at possibilities as we get closer to the deadline, and teams start to look to sell.
I am also inclined to go with Badger and consider that the better pitchers, like Michael Kopech, can dominate the Dodgers.   José Quintana shut down the Dodgers twice this year.  The Dodgers did hit Sean Manaea, but not Yu Darvish.  They have not faced Logan Webb or Joe Musgrove.  Jacob deGrom and Max Scherzer should be back when the Dodgers go to NY at the end of August.
One hitter many LAD fans have always seemed to be clamoring for is JD Martinez.  Dodgerrick was a strong advocate for JDM way back early in 2017 when it was clear that the Tigers were going to move him.  Arizona did not give up much to acquire him (3 lottery picks that none have worked out).  Might he have been a help in the 2017 WS (even with the cheating)?
It looks like JDM could be a rental trade target again this year.  JDM hits both RHP and LHP, but he is especially lethal against LHP.  His HR power is diminished this year, but not his bat to ball skills.  He is slashing .359/.422/.552/.974. He may have only 5 HRs, but he has 20 doubles.  Sounds very much like Freddie Freeman.
What would a rental package of JDM and Michael Wacha cost?  That is definitely a package I could get behind.
As we get closer to the deadline, we will learn more about the status of the starters' health (Kershaw and Heaney).  We will learn whether Walker Buehler has found his 4-seamer.  We will learn how the Dodger hitters fare against better pitching in SD and SF.  We will learn whether the Dodger hitters will score runs for Julio.  Other tough pitchers the Dodgers may be facing before the deadline to assess their offense:
That does not take into consideration pitchers similar to Taijuan Walker, Mitch Keller, and Zach Thompson they are bound to face that the LAD offense did not punish.
Regardless, the Dodgers still have 7-8 weeks to evaluate their own organizational talent and look to see if anyone out there can help them more than who they presently have.  There are certainly improvements that will be available.  But will the Dodgers be willing to trade, and who?