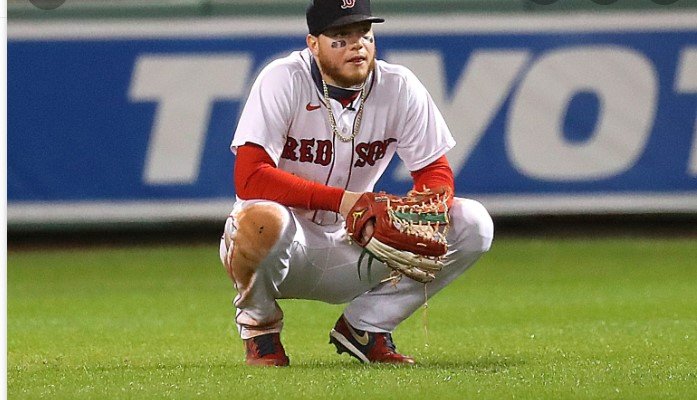 It is one thing with opposing teams' fans to complain about the Dodgers winning the 2020 WS, but when Alex Verdugo pops off, he comes across as someone very bitter.  Verdugo has won nothing, while the player he was traded for has 2 rings.  What did Verdugo say?
"A 60-game season, it's still hard to judge to this day," Verdugo said. "Like yeah, it's a World Series, right? Yeah, they got a ring. But they didn't play any games at their home field. They didn't. There weren't any fans there. It was 60 games. Anyone could ball out for 60 games. That extra 102 is a big difference. They won it, it's a true one, for what we call it. But I still call it as I see it, it's still a 60-gamer."
"They didn't play any games at their home field. They didn't." – During the regular season, that is true.  But not true for the Wild Card series in the Playoffs.  But why is that a disclaimer?
"There weren't any fans" – Yes, the teams relied on their baseball skills, and we saw who came out ahead.  But again, factually not true for the playoffs.  Again, why is this a disclaimer?
"That extra 102 is a big difference" – A big difference in winning an expanded tournament?  Every team played a 60 game season, and then had to play an additional short series.  The Dodgers had to win a best 2 of 3 Wild Card series over Milwaukee, before beating San Diego in the NLDS, Atlanta in the NLCS, and Tampa Bay in the WS.
With how the Dodgers dominated that season, is Verdugo implying that the Dodgers would not have continued that dominance were they to play an additional 102 games?
2020 was Verdugo's best year offensively.  Should we discount that because of only 60 games?
Every year there are teams that sneak into the playoffs and get hot.  2014 San Francisco Giants?  2019 Washington Nationals?  Should there be an asterisk because they won as a wild card team?  Or the 1988 Los Angeles Dodgers who had no business beating NYM or Oakland, and yet did.  Or are they deserving because they got hot during the playoffs? They won under the rules at the time, just like the 2020 Dodgers.
Every year, the playoffs are a crapshoot.  Teams get hot at the right time of the season.  What the winner of the World Series is, is a survivor of a tough playoff series against good teams.  It is winning a tournament, not necessarily crowning the best team in MLB that year.  The Dodgers did that in 2020.  Although they were also the best team in MLB.
Which brings me to his statement:  "They won it, it's a true one, for what we call it." – Yes, they call it a World Series Championship.  How many have you won, Alex?
Other Notes:
Tony Gonsolin is scheduled to start today and go 3.0 innings.  I am guessing that Andrew Heaney will piggyback.
Andre Jackson pitched a stellar 3.0 innings.  It was that 4th that did him in.
Julio Urías is schedule to start Tuesday, while Clayton Kershaw will start on Wednesday.  No word is given as to how many innings either will get.  Both pitchers will have sufficient time to start Game 1 of the NLDS.
Will Freddie Freeman get 4 hits in the next three games to get 200 for the season?  Will Jeff McNeil catch Freddie for batting championship?  Freddie – .327 and McNeil – .326.
It will be a massive upset if the Mets are not the team to play Padres in a Wild Card Series.  That is assuming the Padres hold off the Phillies for the 5th Wild Card team. The Braves swept the Mets over the weekend, and the Braves beat Jacob deGrom, Max Scherzer, and Chris Bassitt.  Both teams have 3 games to play, and the Braves have a 2.0 game lead.  The Braves have the tiebreaker.  One Atlanta win or one NYM loss and the Braves will have climbed a mountain and won the NL East Division.
Technically, the Brewers are still in the hunt for the final wild card spot.  One loss by the Brewers or one win by the Phillies and the Phillies are in and the Brewers will be looking forward to 2023.  The Phillies are a game behind San Diego for the #5 seed and the privilege of facing NYM in the Wild Card in New York.  The #6 seed will face St. Louis in the other NL Wild Card series in St. Louis.
San Diego – 3 games against San Francisco in San Diego
Philadelphia – 3 games against Houston in Houston
Milwaukee – 3 games against Arizona in Milwaukee
Yes I am getting bored waiting for the playoffs.